2018 Educational Surrogate Parent Program
Grant to an Illinois Nonprofit, Institution of Higher Education,
or School District to Train Educational Surrogate Parents

Illinois State Board of Education (ISBE)

07/25/17 4:00 PM Receipt
Grant to an Illinois nonprofit, institution of higher education, professional organization, school district, or cooperative for programs that will help train and recruit qualified individuals to be educational surrogate parents. Focus will be given to the areas of recruitment, training, resource development, and collaboration.

The intent of the program is to build a system that supports student representation in the matters relating to the identification, evaluation, and educational placement of the child and the provision of a free appropriate public education to the child.

An educational surrogate parent is an individual who has been appointed by the State Board of Education to represent the educational interests of a child with disabilities when a parent(s) cannot be identified or located, the child is a youth in care, or they are unaccompanied homeless youth.

The program has two parts:

1) The recruitment and training of individuals to ensure an adequate pool of qualified and trained educational surrogate parents is available across the state to meet students' representation needs.
2) The assignment of educational surrogate parents. (Assignments are completed by agency staff at ISBE.)

Allowable expenditures include:

- Project coordinator, project support staff salaries, benefit provisions;
- Trainer stipend/fee/contract;
- Background checks;
- Training space rental;
- Food cost for participants at trainings with working lunch requirements;
- Program and office supplies directly related to the purposes of the project;
- Financial cost of printing/copying training materials, envelopes, and all brochures and fliers;
- Related travel costs (limited to community trainings or services, team meetings, volunteer, and trainer recruitment activities).

1

One grant will be awarded in FY 2018 (year 1 of the project) in an amount not to exceed $115,000.

The annual grant awards in subsequent years of the grant period will be $115,000 and are contingent upon federal funding, successful completion of grant activities, and completion and submission of a continuing application, an approvable budget, and performance reports.

The grant period will begin no sooner than July 1, 2017, and will extend from the execution date of the grant until June 30, 2018. Funding in the subsequent years will be contingent upon a sufficient appropriation for the program and satisfactory progress in the preceding grant period.

It is the intention of the State Board of Education to fund this program for five years (through FY 2022).

Entities experienced in providing statewide training and volunteer recruitment activities are eligible to apply.

Such entities include nonprofit organizations, institutions of higher education, professional organizations, school districts, cooperatives, and other joint agreements with a governing body or board of control (e.g., education for employment systems, area vocational centers, special education cooperatives), and educational service regions (Regional Offices of Education and Intermediate Service Centers).

Each applicant is required to:

(i) Be registered in SAM before submitting its application. If you are not registered in SAM, you may do so at www.sam.gov;
(ii) Provide a valid DUNS number in its application; and
(iii) Continue to maintain an active SAM registration with current information at all times during which it has an active federal, federal pass-through, or state award or an application or plan under consideration by a federal or state awarding agency.

Non-allowable expenditures include:

- Out-of-state travel, and
- Other expenditures that are not directly related to the purpose of the project.

The State of Illinois Grant Accountability and Transparency Act (GATA) requires applicants to complete pre-award requirements for an FY 2018 grant. This includes completion of the Applicant Registration, Applicant Pre-qualification, and Fiscal and Administrative Risk Assessment (ICQ) available at the Illinois GATA Web Portal at
http://www.illinois.gov/sites/GATA/Grantee/Pages/default.aspx and completion of a Programmatic Risk Assessment through the ISBE Web Application Security (IWAS) system.

It is anticipated that successful applicants will receive a Notice of State Award (NOSA) from the state superintendent via email or the U.S. Postal Service approximately 90 days after the application deadline.

Before starting your grant application, please review the funding source's website listed below for updates/changes/addendums/conferences/LOIs.
To submit by mail, send to:

Illinois State Board of Education,
Special Education Services, Attn: Erin Cray
100 N First Street, N-253
Springfield, IL 62777-0001

Applications may also be hand-delivered to the following locations:

Springfield Office
Guard Station
1st Floor
100 North First Street

Chicago Office
Reception Area
Suite 14-300
100 West Randolph Street

Phone: 217-557-6763

18-4630-SP

USA: Illinois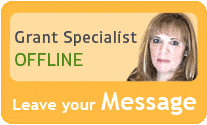 Our team of researchers and grant specialists review hundreds of funding resources daily to make sure GrantWatch.com provides members with the most up-to-date grants.
We have grants for: