Budget Enhancement Grants (BEG)
Grants to Washington, DC Nonprofits to
Enhance Arts and Humanities Opportunities

District of Columbia (DC) Commission on the Arts and Humanities (CAH)

10/13/17

10/20/17 4:00 PM EDT
Grants to Washington, DC nonprofit organizations for arts and humanities projects benefitting a broad range of communities within the District. First-time applicants are strongly encouraged to attend a workshop prior to applying. Workshops are scheduled for October 4, October 6, October 12, and October 13.

The Budget Enhancement Grants program provides project support for organizations to execute projects that promote arts and humanities activities to a diverse range of communities within the District of Columbia. CAH accepts applications for projects that demonstrate District impact and engage District residents and visitors within the defined categories (see Estimated Size of Grant below).

CAH encourages community-based projects that share characteristics such as geographic location, common interests or a community impact. Arts and humanities projects may be defined as, but are not limited to, musical or dance concerts, visual art exhibitions, literary readings or festivals that feature dance, folk art, film, music, theatre and other art forms.

Budget Enhancement Grants Program Goals:
-Provide access to high-quality arts and humanities experiences for all District of Columbia residents;
-Enhance the quality of life by supporting vibrant community projects within the arts and humanities; and,
-Strengthen the creative economy through investments in cultural organizations that serve the
community.

Successful Budget Enhancement Grants Applications:
-Clearly articulate the design, project budget, deliverables and schedule of the project, including the impact of the project on the community and on the artists and/or organization involved in the execution.
-Demonstrates knowledge about the broad community of the District of Columbia and local community members where the project is sited, and reflects an understanding of its community and place throughout the application.
-Employ relevant methods to ensure project accessibility and engagement for all.

Examples of allowable costs for Budget Enhancement Grants:
-Artistic and Administrative personnel salaries or wages;
-Artist(s) /consultant(s) fees;
-Space rental fees;
-Travel and transportation directly related to project implementation;

Americans with Disabilities Act:
CAH is committed to ensuring that all grant recipients comply with the Americans with Disabilities Act (ADA) of 1990. The ADA provides civil rights protection to individuals with disabilities in the areas of employment, services rendered by state and local government, places of public accommodation, transportation and telecommunication services. Organizations funded by CAH must make reasonable accommodations to ensure that people with disabilities have equal physical and communications access,

Inclusion, Diversity, Equity, Access
In addition to detailed plans for ADA compliance, applications should demonstrate how the project will be inclusive, diverse, equitable and accessible throughout District of Columbia beyond participants with disabilities. Successful applications consider the broader definition of accessibility by addressing financial, geographic, cultural and developmental access.

Organizations may request up to:

-$4,9500,000 to support an existing multi-stage theater organization in the Uptown Arts – Mixed Use Overlay District, as defined in section 120 of Title 11-W of the District of Columbia Municipal Regulations (11-W DCMR § 120.1), seeking a matching grant to upgrade or renovate its existing facilities, including for the purpose of increasing public access to the facility be used for the establishment of a children's museum in the Central Business District; or

-$1,900,000 to assist with capital improvements, such as replacing aging elevators and heating, ventilation, and air conditioning, at a theater in the Central Business District, as defined in Section 990 of Title 18 of the District of Columbia Municipal Regulations (18 DCMR § 9901), that offers Broadway-style musicals; or

-$250,000 to provide support for infrastructure improvements, such as planting, planning, and outreach events, concerning the National Mall and its grounds, to a nonprofit organization dedicated to improving, preserving, and restoring the National Mall; or

-$250,000 to provide a literary-enrichment program for District of Columbia Public Schools and District of Columbia public charter schools, which includes the provision of copies of literature and curricular materials and author visits for literary discussion with students; or

-$200,000 to provide support to a nonprofit, tax-exempt organization dedicated to preserving burial grounds located in Georgetown, as well as the history of African- American cemeteries, for the purpose of markings and boundaries for such cemeteries and burial grounds and to make visible and definite the locations of graves and the identity of those buried in the graves; or

-$200,000 to provide orchestral performances with supporting community engagement events, such as education events and symposia, in venues within the District, along with full-orchestra performances in the Kennedy Center; or

-$100,000 to support an existing theater and museum organization in the Central Business District, as defined in Section 9901 of Title 18 of the District of Columbia Municipal Regulations (18 DCMR § 9901), that is operated through a public-private partnership and explores the American experience through the intersection of history, performance, and education.

The grant period for this grant program opportunity is from December 15, 2017 to September 30, 2018.

Organizations may apply if they meet all of the following eligibility requirements at the time of application. Applicants must:
-Be offering one of the seven (7) types of projects identified in the introduction; and
-Have a commitment to provide arts, humanities and education programs to the residents of Washington, DC, and ensure that at least fifty-one percent (51%) of the organization's activities occur within the District of Columbia; and
-Be incorporated in the District of Columbia; and
-Be a registered District of Columbia nonprofit business (foreign entities are prohibited); and
-Be headquartered with a land address in the District of Columbia as demonstrated by the organization's most recent IRS Form 990 (Post Office Boxes and the address of board members or volunteers may not be used as a primary business address); and
-Possess a federal tax exemption status (501(c)(3)) for at least one (1) year prior to the application deadline date; and
-Be a registered organization in good standing with the District of Columbia Department of Consumer and Regulatory Affairs' (DCRA) Corporation Division, the Office of Tax and Revenue (OTR) and the Internal Revenue Service (IRS); and
-Obtain a Citywide Clean Hands certification; and
-Are in good standing with CAH (applicants with incomplete or delinquent reports from any prior funding program, as of October 16, 2017, are deemed in poor standing and are ineligible to receive an additional award from CAH in FY 2018); and
-Abstain from any use of secondary party that acts on an organization's behalf ("fiscal agent") in the performance and execution of financial duties; and
-Are not colleges, universities, service organizations, foreign governments or other District of Columbia government agencies, including District of Columbia Public Schools or charter schools.

Examples of funding restrictions for Budget Enhancement Grants:
-Overhead, maintenance and administration exceeding 35% of the grant and match;
-Food and beverages;
-Auxiliary and/or affiliate organizations;
-Tuition, awards and scholarships;
-Re-granting;
-Debt reduction;
-Fundraising project expenses;
-Travel not directly related to the execution of the project;
-Equipment purchases over 25% of the grant award;
-Expenses not directly related to the execution of the project;
-Operational reserve – BEG awards cannot go toward operational reserves;
-Funding to universities, foreign governments or District of Columbia government agencies, including DCPS.

Workshop dates, times and locations listed below are subject to change. All workshops are free and open to the public; however, participants are encouraged to RSVP. Photo identification is required for in-person workshops.

Workshop attendance is strongly recommended for first-time applicants.

-General Workshop: Wednesday, October 4, 6:00 PM – 8:00 PM at CAH
-Web Chat: Friday, October 6, 2:30 PM - 3:30 PM
-General Workshop: Thursday, October 12, 10:00 AM – 12:00 PM at DMGEO
-Web Chat: Friday, October 13, 2:30 PM – 3:30 PM

FY18 Workshops will be located at:

DC Commission on the Arts and Humanities (CAH)
200 I (Eye) Street SE, Suite 1400
Washington, DC 20003

Office of the Deputy Mayor for Greater Economic Opportunity (DMGEO)
2235 Shannon Place SE, Suite 3040
Washington, DC 20020

CAH staff members are available to assist grant applicants through group or individual technical assistance. CAH staff members will not write applications for applicants. CAH staff members are available for thirty (30) minute appointments on government business days up to one (1) week prior to the grant application deadline. An applicant is permitted to contact CAH to schedule a meeting to review draft applications for technical assistance.

Please note that CAH requests the applicant prepare and deliver (by email) their full draft application proposal along with any questions in advance of scheduling a meeting for agency staff assistance.

Applications must be submitted via CAH's online portal by 4:00 PM EDT on the deadline date.

Applicants will be notified of a grant application decision via a conditional grant award email, letter of intention to fund, letter of ineligibility or letter of denial, on or after Friday, December 15, 2017 – depending upon the program.

Before starting your grant application, please review the funding source's website listed below for updates/changes/addendums/conferences/LOIs.
Live Web Chats:
https://dcarts.dc.gov/livechat

Apply Online:
https://www.gdg.do/prod1/portal/portal.jsp?c=4193775&p=6947885&g=6947905

For more information regarding the grant program, please contact:

Heran Sereke-Brhan, Senior Grants Officer
202-724-5613
heran.sereke-brhan2@dc.gov

To request reasonable accommodation for application submission via mail, email, or hand-delivery, please contact:

Kali Wasenko
202-724-5613
kali.wasenko@dc.gov

Government of the District of Columbia
Commission on the Arts and Humanities
200 I (Eye) Street, SE, Suite 1400
Washington, DC 20003

USA: Washington, DC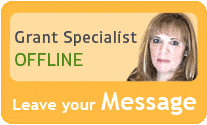 Our team of researchers and grant specialists review hundreds of funding resources daily to make sure GrantWatch.com provides members with the most up-to-date grants.
We have grants for: