Going Out is In Again
This Mother's Day was the beginning of the rebound. Dining out is back. After a dismal COVID-fueled period of partial and total restaurant shutdowns, the South Florida food scene is open. And Florida's residents are going out again.
The area where I reside; Palm Beach County, Florida, has had scores of heroes who have stepped up to assist their friends and neighbors. An army of private citizens volunteered wherever and whenever they were needed. Local governments, grants and non-profits supplied the desperately needed capital to fund this army of volunteers.
A Local Legend Becomes a New Hero
Rodney Mayo, the well known and controversial local resident and owner of 17 restaurants and bars in the county, was among the heroes.
When all the restaurants were compelled to close during the pandemic, Mr. Mayo decided he had to feed his unemployed staff which numbered in the hundreds. He worked with his chefs and suppliers and opened a drive-up food line at one of his restaurants. He supplied a daily hot meal, which soon evolved into a food hub for any hospitality employee.
Soon local governments, produce vendors and the community donated money and aid which provided hundred of thousands of meals. And there are still grants available to help those in the hospitality business to help ease the challenges caused by Covid-19.
Thankfully, that is almost history, and the local food scene is brainstorming new and innovative menus.
How Would You Like Your Snake Done?
Donna Kalil, who is a python hunter for the South Florida Water Management District, would like to see roasted python on the menu. The Burmese pythons are another invasive species that has plagued Florida. These apex predators are creating havoc in places like the environmentally sensitive Everglades.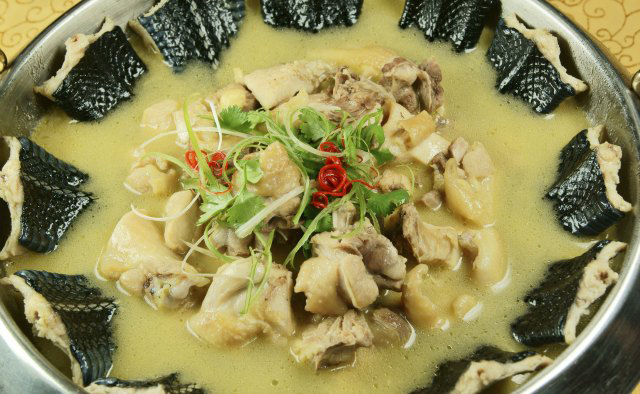 The History Channel has a hit television show called, "Swamp People". And follows the "King of the Swamp" with the local gator wranglers, as they hunt alligators. Their newest show is, "Swamp People: Serpent Invasion". This television program brings the Louisiana based Cajun Navy to the Everglades, for an up close, dangerous, and entertaining battle against these snakes.
Donna Kalil is Florida's first certified female python hunter. Not only does she hunt pythons but she also makes jerky from the meat by marinating and putting it in a dehydrator for at least 12 hours. "I eat that several times a week because I take it out with me on python hunts and I eat it out there."
The state of Florida needs to develop health guidelines before restaurants will start offering "snake and eggs" on their menus.
Kalil has already eaten three of the many invasive species in the state. Her favorite is Lionfish, followed by Iguana and Python. She heartily suggests everyone try some.
"If you could do the trifecta of all three, you could help the environment and still have some meat on your table".
At GrantWatch, we understand how important the restaurant industry is to your quality of life and we understand how important it is to take care of it. We have a grant here from Barstool Sports to help people in the restaurant circles. Call us at 561-429-4129 or go online to GrantWatch and you'll receive wonderful support from our talented team.