How To Claim Your Free GrantWatch Mug
Were you awarded a grant after finding it on GrantWatch? If the answer is yes, then you're eligible to receive a free GrantWatch latte mug and be on GrantNews. Keep reading to find out how to redeem your free mug and if you meet all the requirements.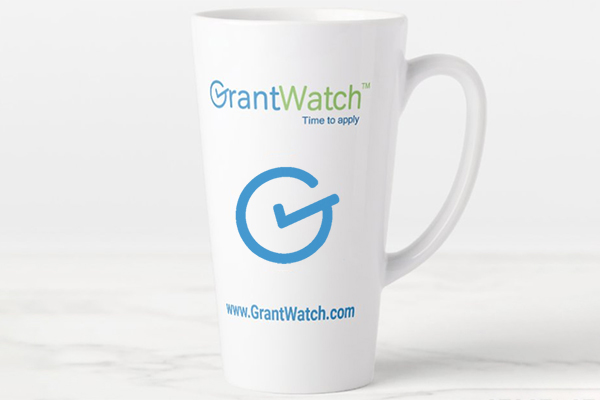 GrantWatch is gifting this 17-ounce latte mug to subscribers who have been awarded grants that they found on GrantWatch.com. Check below to see the eligibility criteria:
1.✅ Found grants using GrantWatch.com
2.✅ You applied and won one or more grants
If you meet all these requirements, your next step is to email support@GrantWatch.com and include:
the email associated with your GrantWatch subscription
the name of the grant/s your organization applied for
a copy of your grant award letter or proof of your grant
current postal address for shipping
Once you have received your free GrantWatch latte mug, why not share your success story? Your success story could be on the GrantNews website and also on the GrantWatch testimonial page. This is a great way to bring exposure and attention to your organization. Here are some of the most recent stories from recipients:
---
"I found this grant on GrantWatch and it was the first grant I ever applied for. I want to write more grants, now that I know that a novice grant writer can be successful and appeal to caring organizations that are willing to help. We also found the GrantWatch website to be helpful in finding grants that are appropriate for a nonprofit school in Florida." – Judy Bordeau, Admin Asst. & HR Coordinator.
---
"I have worked in the nonprofit and higher education sectors for over 30 years. I have received over ten million in funding since that time. It has only been the last few years that I discovered GrantWatch. Thankfully, it has paid off! Your site was not just an information source, but an avenue for learning new skills. We applied for a $50,000 grant we found on GrantWatch, and was one of five grant recipients selected!" – Sarah Maxwell Ph.D., Associate Professor, Public and Nonprofit Management.
---
"At United Samaritans Foundation (Stanislaus County, California) I search for grant opportunities on a daily or weekly basis. I began applying for grants from private foundations that we'd never contacted before. They awarded us a substantial amount of money to partially cover the costs of a new mobile food service vehicle. Without our subscription to Grant Watch, I wouldn't have discovered and applied to these foundations." – Dana McGarry, Grants Writer / Senior Programs.
---
Become Inspired with More Testimonials
Thank you to everyone who has shared their story with us. You can click here to see more testimonials. If you have not received a grant yet, don't lose hope! GrantWatch is constantly releasing new grants, so it can sometimes just come down to timing. Don't limit yourself to a particular genre and be creative when searching. If you have submitted three or more grant proposals and have had no luck so far, click here to learn how to increase your chances of getting a grant.