Financial Literacy Funding Is on the Rise | Apply Now!
Financial literacy is often overlooked. Subsequently, many organizations are in dire need of funding to help individuals learn how to achieve financial self-sufficiency. In addition, April marks the start of Financial Literacy Month. As a result, the nationally-recognized campaign helps bring awareness to the need of more financial education.
How Does Financial Literacy Affect Us?
According to FINRA, only 34% of Americans can answer at least four of five basic financial literacy questions. These questions are general knowledge on topics such as mortgages, interest rates, inflation and risk. As a result, a significant portion of the population remains financially illiterate. Specifically, this means that they lack the ability to understand and effectively use various financial skills, including personal financial management, budgeting and investing.
Without these skills, Americans struggle with everyday tasks, from paying bills, buying a home, or planning retirement. Many Americans have money problems because of financial illiteracy, and the issue persists globally. The disparity of financial knowledge between minority groups and non-minority groups is also extensive, despite similar economic contributions.
Financial Literacy Statistics Overview:
78% of adults live paycheck to paycheck
4 in 7 Americans are financially illiterate.
Also, only 24 percent of millennials understand basic financial topics.
Can Financial Literacy Programs Help?
Comparatively, a basic financial education encourages better money management skills, decision-making graft, strong budgeting and spending habits. Equally important, it also promotes fiduciary confidence which can be passed down to children within the household.
Being financially literate makes you less susceptible to financial scams.
In addition, those with a higher level of financial literacy are more likely to cope with financial crises.
Financial education also helps to increase the likelihood of becoming financially responsible.
Since there is a demand for more financial literacy education, grantmakers are stepping up to help. Meanwhile, foundations, corporations, and governments have released funding opportunities to support initiatives and promote financial literacy programs.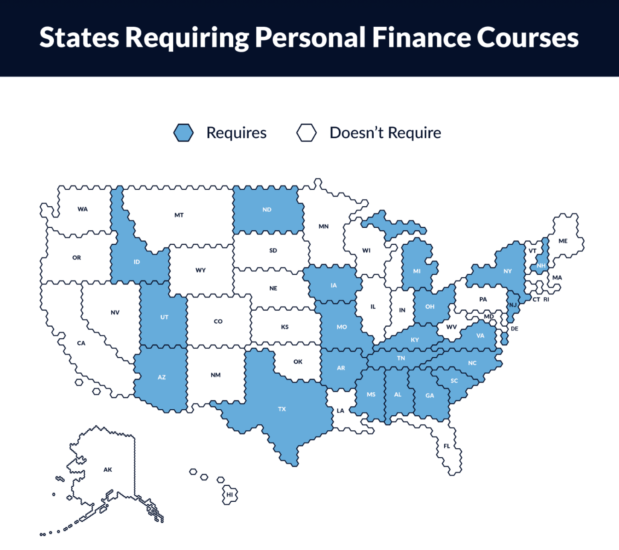 20 Financial Literacy Grants Accepting Applications
1. Firstly, grants are available to U.S. nonprofit organizations and IHEs for programs that educate underserved Americans in financial capability, financial literacy, and financial well-being.
2. Financial literacy grants are also open to nonprofit organizations in eligible areas within Arkansas, Alabama, Georgia, Mississippi, Louisiana, North Carolina, South Carolina, Florida, Tennessee, New York City, and Texas.
3. $500 to Florida* and Georgia* teachers for programs that integrate financial literacy into the curriculum.
4. Grants to Connecticut*, Massachusetts*, New York*, and Rhode Island* nonprofit organizations for financial literacy programs.
5. Connecticut* nonprofit organizations to support financial literacy programs.
6. Connecticut nonprofit organizations in Hartford County for financial literacy education programs.
7. Up to $5,000 to Iowa* and Nebraska* nonprofit organizations to provide education in financial literacy.
8. Maine* nonprofit organizations to support activities in the areas financial literacy and education.
9. Maine* nonprofits for programs and projects that promote financial literacy.
10. Massachusetts* and Rhode Island* nonprofit organizations for projects that address financial literacy.
Grants can help fund programs that cover topics such as investing, saving, banking, money, borrowing and credit, and economics.

Joan Martin, Grant Management Specialist
Grants Cont.
* Denotes in eligible areas within the state.
Don't see your area listed above? Don't worry! New grants are constantly being released and added to the GrantWatch.com directory. Additionally, you can visit the "Community Services" category in your State to view similar funding opportunities available. Finally, to view the full grant details (including the eligibility criteria and application information), a MemberPlus+ subscription is required.