FY18 Capital Improvement Grants for Arts and Humanities Organizations
Grants to Montgomery County, Maryland Arts and
Humanities Nonprofits for Facilities Improvements

Arts and Humanities Council of Montgomery County (AHCMC)

01/17/17 11:59 PM
Grants starting at $25,000 to Montgomery County, Maryland arts and humanities nonprofits for capital projects related to the organization's facilities. Applicants have the option to schedule a consultation up to two weeks prior to the deadline. Organizations must have a primary mission related to the arts and humanities, and provide direct services to local residents.

Capital Improvement Project Grants are intended to assist arts and humanities organizations related to an existing structure or physical plant repairs that are critical to an organization's arts or humanities mission. Grants are not intended for facilities in which capital projects are otherwise the responsibility of the landlord.

Should a grant request refer to an "emergency need," the conditions related to the emergency and/or exceptional circumstance should be well articulated in the application and the support materials. Examples of emergencies include, but are not limited to: urgent repair due to an unforeseen disaster; emergency replacement of critical equipment and/or infrastructure, and an urgent critical renovation.

$25,000 - $250,000

The proposed activity and expenditures for which the organization intends funds to be used must occur within two years of contract signature.

An organization or group is eligible to apply for Capital Improvement Project Grants if it meets all of the following requirements:

-For at least 24 consecutive months immediately prior to the application deadline, the applicant has to have as its primary mission the exhibition, presentation, production or performance of and/or education in, an arts and/or humanities discipline, and/or provides support services for artists and/or scholars and/or for arts and/or humanities organizations;

-Meets one of the following requirements: holds current status under IRS code 501(c)(3); or is a specifically defined arts and/or humanities division with its own program identity within a larger 501(c)(3) organization based in Montgomery County that does not have the arts and/or humanities as its primary mission.

-Is governed by an independent, legally liable board of directors operating under a mission statement for the organization and an operating budget specific to the organization; and

-Offers not less than 51% of its programs and services in Montgomery County and these programs and services are open to the public, with or without an admission fee;

-The organization had annual cash operating expenses of at least $25,000 in the previous fiscal year;

-Has a full-time (35 hours or more) paid executive director, CEO, managing director, or comparable position, who reports directly to the organization's board of directors and has had that position filled for no fewer than six of the 12 months prior to submitting the application; and

-The organization must be current with its debt obligations to Montgomery County Government.

Proposal Eligibility Requirements:

-A Capital Improvement Project Grant will be eligible only if it contributes to the organization's fiscal stability and long‐term viability.

-The facility to be improved is located in Montgomery County, MD and is owned by the organization; or if the organization leases the property or facility, the organization demonstrates that the work is the responsibility of the lease holder and that landlord agrees to the work. If the lease ends within 12 months of the application deadline, applicant must demonstrate that the landlord has given them an appropriate option for renewal.

-Projects must address physical plant repairs and renovations critical to an organization's arts or humanities mission. Examples of eligible proposals include, but are not limited to: Capital projects, including facility construction, repairs or renovations.

-The organization must demonstrate that the landowner has approved the proposed capital improvement.

-Applicants who received a Capital Improvement Project Grant in the previous year may seek funding again provided that the proposal is for a different phase of the overall project.

Audit Eligibility Requirements

-Every applicant must submit an audit prepared by an independent certified public accountant for their fiscal year 2016 as the fiscal year is defined by the organization, e.g., July 1, 2015 – June 30, 2016 or 2016 fiscal year, e.g. January 1 – December 31, 2016.

-The audit must include the independent auditor's report, including the notes. The management letter should also be included if the organization consents to its inclusion.

-If this audit is not completed by the application due date, the applicant must submit a financial statement for the most recently completed fiscal year signed by the organization's treasurer with a letter stating the estimated date when the audit will be submitted to AHCMC.

-The audit must be submitted no later than June 1, 2017. If the audit is not received by June 1, 2017, the organization will be disqualified from receiving a grant.

-These grants are intended for organizations that are fiscally stable and have a demonstrated history of fiscal responsibility. If the audit expresses a Going Concern, the organization may be deemed ineligible to receive a grant.

Capital Improvement Project Grants do not fund:
-Scholarships, re-granting, awards, or tuition assistance awarded by the organization for its own activities;
-Expenses that are incurred in connection with fundraising;
-Costs of receptions, refreshments, and food;
-Costs of marketing or promotion merchandise;
-Political advocacy or any partisan activity that promotes the interests of any one political party
or candidate;
-Travel outside the country;
-General operating costs;
-Personnel costs;
-Consumable supplies unrelated to construction;
-Programming, i.e. performances or events, etc.;
-Attorney fees;
-Debt reduction;
-Fees for land use consultants;
-Amounts payable to engineers, architects (if applicable) and other consultants;
-Permitting fees;
-Amounts paid for bonding and related fees, including but not limited to payment and performance bonds securing performance by the site work contractors;
-Amounts paid for testing and inspections;
-Third party consulting and construction management fees; and
-Insurance.

The deadline to submit applications online is January 17, 2017, 11:59 PM.

Before the Capital Improvement Project Grant funds may be released, the applicant must provide a match of one dollar for every dollar of grant funds awarded. The match must consist of at least 50% cash.

Personal appointments are available for those who need assistance. AHCMC grants staff can assist applicants with the content of their application and/or with the online grant application system. Consultation services in languages other than English are available by appointment.

Personal appointments must be held at least two weeks prior to the application submission deadline.

To schedule an appointment, contact Nabil Ghachem or Takenya LaViscoun (see contact details below).

Before starting your grant application, please review the funding source's website listed below for updates/changes/addendums/conferences/LOIs.
Online Grants System: http://creativemoco.culturegrants.org/

Nabil Ghachem, Grants Program Manager
301-565‐3804
nabil.ghachem@creativemoco.com

Takenya LaViscount, Senior Grants Program Manager
301-565-3805 x 26
takenya.laviscount@creativemoco.com

Arts and Humanities Council of Montgomery County (AHCMC)
801 Ellsworth Drive
Silver Spring, MD 20910

Nonprofits in Montgomery County may apply.

USA: Maryland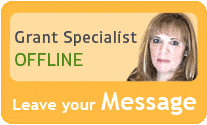 Our team of researchers and grant specialists review hundreds of funding resources daily to make sure GrantWatch.com provides members with the most up-to-date grants.
We have grants for: