Innovation Catalyst Program
Grants to California Nonprofits and Agencies for
Healthcare Strategies to Benefit Underserved Groups
Agency Type:
Foundation / Corporation

Center for Care Innovations (CCI)

12/06/16 5:00 PM

Request a Grant Writer
Grants of $15,000 to California nonprofit and governmental health centers to develop innovative solutions to meet the healthcare needs of disadvantaged groups. Teams of two to three individuals from each selected organization will attend a five-month long training program to apply human-centered innovations within their organization.

The Innovation Catalyst program builds a foundational skill set and approach for organizations interested in truly transforming their care models and culture to develop and spread innovative solutions. The capabilities developed in the Innovation Catalyst program also provide a powerful complement to expertise in quality improvement, LEAN/SixSigma, adaptive leadership, and change management.

The 2017 Innovation Catalyst Program includes two components that will support the development and testing of innovative concepts that transform the health care safety net. First, CCI will expand the network of trained innovators who can apply innovation and design methods to projects across their organization and help the safety net as a system to start thinking and working in different ways.

This program also aims to support fresh and compelling ideas developed within the new Catalyst cohort that have the potential to create new value within the care delivery system. Catalysts are required to identify an "opportunity area" to work on when they apply for the program. By the end of the five-month core program, teams are expected to apply their learning to both meet the program milestones and develop a "tested solution" that the teams will pitch to their organization sponsors and other health system leadership via an in-person showcase in late June.

In addition to Catalysts acquiring new mindsets and methods, all teams are expected to develop a tested solution by the end of the core program in late June. The program's human-centered innovation curriculum and coaching supports teams in achieving this result.

Tested solutions means the following:

-Your team generated a range of ideas—not variations on a single idea—that map back to your unmet needs and opportunity area.

-Your team translated those ideas into potential solutions that were prototyped, experimented with, and tested by a range of end users in their real environment.

-Based on what you learned from end users, you narrowed down the potential solutions to a final solution, or solution set, that will add new value for end users and/or other stakeholders.

-Your team then iteratively prototyped and tested variations of the solution, and defined and tracked the solution's early impact to assess which iteration yielded the best experience or result. For example, a health center testing a new role iteratively prototyped what the role should be called (waiting room "concierge" versus "host") and what the role responsibilities were.

-Based on the preliminary impact of your solution, your team documented, synthesized and drew conclusions on how to refine it. You then used these learnings to determine whether the tested solution should be piloted in your organization. In some cases, you might recommend that your organization not pursue the tested solution based on your findings—this is also a mindset and skill that Catalysts practice.

Teams are not expected to draft processes and protocols for running a pilot by the end of the five-month core program. Teams interested in taking their projects to the pilot and implementation phase may choose to apply for additional funding in June as an extended program offering.

Key resources include:

-Training: Catalysts will participate in three, in-person trainings in February, April and June, during which they will be brought through the program curriculum and actively practice human-centered innovation methods and mindsets. The June convening provides a venue for Catalysts to showcase their work to their organization sponsors.

-Coaching: Teams will have access to hands-on coaching support from a practitioner of human- centered innovation for up to four hours per month. Through onsite and remote support, coaches help teams model and reinforce the methods and mindsets they learn in trainings.

-Learning Community: Teams can communicate with each other and the broader Innovation Catalyst network of 100+ alumni through the www.wearecatalysts.org portal. Catalysts can also participate in periodic virtual learning sessions.

-Financial: Because this program seeks to attract multidisciplinary teams that can commit to attending three in-person convenings and take advantage of the coaching resource on a monthly basis, each organization receives a $15,000 grant to offset staff time, travel, and other costs related to program participation.

At the completion of the five-month core program, Catalyst teams will be eligible to apply for an additional grant of up to $10,000 to plan and pilot their solution, with the hope of implementing it within their organization. If a team is selected, the extended program will take place over the course of four months (July-October 2017), during which teams will receive additional programmatic support.

Up to 14 Innovation Catalyst teams will be selected.

Each organization receives a $15,000 grant.

At the completion of the 5-month core program, teams will be eligible to apply for an additional grant of up to $10,000.

The Core Program is held from January 23, 2017 to June 30, 2017.

If a team is selected for the additional grant, the extended program will take place over the course of four months (July - October 2017)

Teams of two to three individuals from clinic corporations, ambulatory care clinics at public hospitals, and other California-based nonprofit health centers that provide comprehensive primary care services to underserved populations are eligible to apply.

Regional clinic consortia are also eligible to apply.

Organizations must be nonprofit and tax-exempt organizations under 501(c)(3) of the Internal Revenue Service Code (IRC) or a governmental, tribal, or public entity.

Examples of eligible organizations that comprise the safety net include:
-Free-standing community clinics and health centers
-Ambulatory care clinics which are part of public hospital systems either located in the public hospital or out in the community
-Primary care health centers (including those sponsored by Public Health departments)
-American Indian Health Centers
-Regional clinic consortia

A limited number of slots are available on a fee schedule for organizations not employed by a safety net organization in California. Please contact laura@careinnovations.org if you are interested in learning more about this option.

View the November 17 Webinar recording here: https://vimeo.com/192040972

Timeline:
-Application Deadline: December 6, 5:00 PM PM
-Applicant follow-up calls (if need be): December 15 to 21
-Innovation Catalyst cohort announced: January 13, 2017
-Program Kick-Off Call: January 23, 2017, 12:00 PM – 1:30 PM
-Training #1 (1.5 Days): February 7-8, 2017, Bay Area
-Training #2 (1 or 1.5 Days): April 11-12, 2017, location TBD
-Training #3 (1 or 1.5 Days): June 27-28, 2017 location TBD
-Core Program End Date: June 30, 2017

Before starting your grant application, please review the funding source's website listed below for updates/changes/addendums/conferences/LOIs.
Apply Online: https://www.tfaforms.com/450054

Laura Blumenthal, Program Manager
(415) 233-7382
laura@careinnovations.org

Center for Care Innovations
1438 Webster St. Suite 101
Oakland, CA 94612

USA: California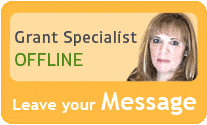 Libby is constantly in touch with grant program managers and reviews numerous publications to make sure that GrantWatch.com provides subscribers with the most up-to-date grant opportunities.
We have grants for:

Need help?
Hi, I would love to guide you through the site.
Please feel free to call or write.
Customer Sales & Support
(561) 249-4129