Certified Local Government Grant
Grants to Iowa Cities and Counties to Identify,
Register, and Preserve Historically Significant Sites

State of Iowa Historic Preservation Office and National Park Service

09/01/17
Grants to Iowa cities and counties for the preservation and designation of historically significant structures, buildings, districts, objects, and sites. Applicants are strongly encouraged to submit a draft application for review by August 14. Eligible activities include the evaluation, registration, and identification required to establish the significance of historic sites. Funding may also be requested for planning activities related to historic preservation.

The CLG program seeks to:

1) Develop and maintain local historic preservation programs that will influence local decisions critical to historic properties, and

2) Ensure the broadest possible participation of local governments in the national historic preservation program while maintaining preservation standards established by the Secretary of the Interior.

A planning project could be developing a historic preservation component for a city or county comprehensive plan; or a plan to develop historic contexts and conduct a series of identification- evaluation-registration projects. Planning could involve studying local ordinances and codes, proposing historic preservation-friendly revisions and, ideally, having those revisions implemented by City Council or Board of Supervisors action.

Educational projects that involve historic preservation are eligible. Applying for scholarship monies to send commissioners or staff to the National Alliance of Preservation Commissions Forum, National Trust annual conference, etc.; developing video tapes and brochures for tours of historic properties; developing historic preservation curriculum for elementary or high school classes are examples of educational activities.

CLG grants can be used for Pre-Development projects. Pre-development projects include doing a structural assessment of a property and developing rehabilitation recommendations; developing maintenance plans for properties; studying adaptive use or alternative uses for a property and making recommendations as to the most appropriate. Generally, these projects focus on a single National Register listed property that is owned by the local government or is accessible to the public.

Eligible grant activities include:
-National Register nominations
-Education projects
-Surveys
-Planning for preservation
-Planning projects

$90,000

Work can begin when the CLG receives the Notice to Proceed and a Grant in Aid Agreement that has been signed by the State and the Chief Elected Official of the CLG. Costs incurred prior to this will not qualify as grant related expenses and will not be reimbursed or regarded as match.

Generally, preliminary work, such as sending Requests for Proposals and signing on consultants, will begin in February following the announcement in December. Grant projects that are not underway by June 1 are subject to cancellation. Projects must be completed by June 30 of the following year.

To qualify for a CLG grant, a city or county must meet two criteria:

1) Have a certified local historic preservation program: The city or county must have an established local historic preservation program by ordinance or resolution, applied for and received Certified Local Government status from the National Park Service, Department of the Interior.

2) Be current in CLG Annual Report submittals: The city or county must be current in their submission of Iowa CLG Annual Report forms. This means that the CLG city or county has submitted all Iowa annual report forms through the prior year and is in good standing.

CLGs may work with other agencies and organizations. Partnerships are encouraged.

CLGs may work on a grant project that involves historic properties located outside of the CLG geographic limits, if all local governments involved approve and if the project meets the CLG Grant program requirements.

CLG grants cannot be used to cover the cost of preparing the grant applications, construction or rehabilitation projects, landscaping, building maintenance, acquisition of property, or the cost of moving properties. CLG grants cannot be used to cover the cost of doing archival research unrelated to historic properties or the cost of workshops, publications, flyers exhibits that do not directly relate to historic preservation. CLG grants cannot be used for museum projects that do not directly relate to historic preservation.

The CLG must provide match with the grant. In other words, the CLG shares in the cost of the project by contributing a share (match) of project costs. The CLG share of costs can consist of cash, in-kind match or a combination of the two.

CLG grants have a 60:40 match ratio. This means that the CLG grant will cover 60% of the total project costs, and the CLG will provide 40% of the total project cost as match. For example, if the total cost for a project is $1,000, then the CLG requests a grant of $600 and provides a match of $400. The $400 may be all cash, all in-kind match or a combination of the two.

As in past years, you are strongly encouraged to submit a draft application for comment. Please note that if you are submitting a Planning for Preservation project, you are required to provide a draft application for review and comment.

The deadline for draft applications is August 14, 2017. You can expect to receive comments back in about a week.

You will need to upload to SlideRoom a signed letter from your chief elected official (mayor, chairman of the board of supervisors, or president of the land use district). The letter should state that the chief elected official approves of the grant application and the commitment of match noted on the budget page. Please be sure to factor that requirement into your grant application process and allow enough time to secure this letter.

The deadline for final applications is September 1, 2017.

Applicants will be notified in December.

Before starting your grant application, please review the funding source's website listed below for updates/changes/addendums/conferences/LOIs.
Submit a Draft Application or Final Application here:
https://iowahistory.slideroom.com/

Paula A. Mohr
(515) 281-6826
Paula.mohr@iowa.gov

State Historical Society of Iowa
Iowa Historic Preservation Office
600 East Locust Street
Des Moines, Iowa 50319-0290

USA: Iowa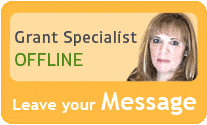 Our team of researchers and grant specialists review hundreds of funding resources daily to make sure GrantWatch.com provides members with the most up-to-date grants.
We have grants for: