Firearms and Archery Range Recreation (FARR) Program
Grants to Washington Nonprofits and Agencies
to Renovate Shooting Range Facilities

Washington State Recreation and Conservation Office

11/01/16

Request a Grant Writer
Grants to Washington nonprofit organizations, government agencies, and special purpose districts to renovate and improve recreation firearm and archery facilities. Eligible ranges and facilities are open to the general public for a minimum of eight hours per month. Typical projects funded by the program include the following:

-Installing fences, berms, and other noise and safety elements
-Upgrading equipment
-Renovating clubhouses
-Building new shooting courses

Eligible Projects:

1) Noise and safety abatement projects and projects that directly benefit shooting activities must be built to contain all projectiles to the applicant's property. Range designs must meet guidance published by either the National Rifle Association, National Field Archery Association, or Archery Trade Association. Projects must be evaluated by a certifiied advisor from one of the associations identified above, by a professional engineer, or by some other qualified professional consltant with experience and expertise in the evaluation and design of ranges and course as condition of funding.

1) Land acquisition projects: Grant recipients may acquire real property in fee title, free and clear of underlying liens. Lesser interests, such as significant leases (at least 10 years) and easements, also may be acquired.

3) Development projects that develop or renovate range facilities. This includes fixed structures related to range use and management, safety, environmental, accessibility, and noise abatement. The following elements are eligible:

-Closed circuit security cameras
-Clubhouses
-Duck towers
-Fencing
-Indoor ranges
-Lighting
-Picnic shelters
-Restrooms
-Roads, paths, parking
-Safety baffles
-Shooting stands
-Signs
-Site preparation, landscaping
-Skeet houses
-Target holders, bullet traps
-Utilities

$500,000

Up to $150,000

Eligible Applicants:
-Local agencies
-Special purpose districts
-State agencies
-Nonprofit shooting organizations

The above entities must be authorized legally to develop, operate, and maintain recreational facilities.

Ineligible Projects:
-Involve only planning, design, operation, or maintenance of range facilities
-On property bought under a conditional sales contract, unless the grant applicant has title to the property
-With deed provisions that have a significant negative impact on public recreational use of the property
-That unfairly discriminate among users
-With areas or facilities that have exclusive lease privileges
-Project involving liability insurance only

The match requirement is 50 percent for all projects, except noise abatement or safety improvement items, which have a 33 percent match. At least 10 percent of the total project cost must come from a non-state, non-federal contribution.

Match may include:
-Applicant's cash, labor, materials, and equipment use
-Donations of land, equipment, labor, and materials
-Local, federal, private, and state grants

Grant Evaluation Process (6 months):

1) Applicants submit an online application and make an in-person presentation.

1) Applications and presentations are reviewed and scored by staff and a panel of experts in shooting ranges.

3) The ranked list is presented to the Recreation and Conservation Funding Board for consideration.

4) The board approves a ranked list of projects and awards grants.

Grant Schedule: http://www.rco.wa.gov/grants/schedules.shtml#farr

Before starting your grant application, please review the funding source's website listed below for updates/changes/addendums/conferences/LOIs.
Submit grant materials online at: http://www.rco.wa.gov/prism_app/about_prism.shtml

Karl Jacobs, RCO Grants Manager
State Parks and Recreation
(360) 902-3084
karl.jacobs@rco.wa.gov

Rory Calhoun, RCO Grants Manager
Department of Fish and Wildlife
(360) 902-3022
rory.calhounn@rco.wa.gov

Dan Haws, RCO Grants Manager
Department of Natural Resources
(360) 902-3079
dan.haws@rco.wa.gov

Additional Grants Management Contacts: http://www.rco.wa.gov/grants/contact_rec_mgr.shtml

Recreation and Conservation Office
PO Box 40917
Olympia, WA 98504-0917

Telephone: (360) 902-3000
TTY: (360) 902-1996
info@rco.wa.gov

USA: Washington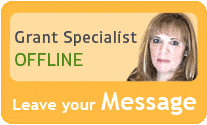 Libby is constantly in touch with grant program managers and reviews numerous publications to make sure that GrantWatch.com provides subscribers with the most up-to-date grant opportunities.
We have grants for:

Need help?
Hi, I would love to guide you through the site.
Please feel free to call or write.
Customer Sales & Support
(561) 249-4129