Cultural Diversity Program (CDP)
Grants to Broward County, Florida Arts and Cultural
Nonprofits for Program Support and Organizational Development

Broward County Cultural Division

09/05/17

10/15/17 11:59 PM
Grants ranging from $5,100 to $25,000 per year to Broward County, Florida nonprofit arts and cultural organizations to support programming that is reflective of the community's traditions and cultural heritage. An application draft must be submitted for review in advance of the deadline. Applicants must attend the September 5 workshop or meet with program staff prior to applying.

Funds may be used for reimbursable program expenses associated with the organization's total program or for specific projects. This program may award funding on a multi-year basis. The aim of multi-year funding is to maintain quality programming while assisting the organization in developing its own artistic, management and financial capacities. Technical assistance is a required component of all CDP awardees. Through a series of consultations, workshops, and meetings, awardees are expected to develop their organizations in order to build their capacities.

Funding each year in the CDP program is dependent upon achievement of certain benchmarks in the technical assistance process.

Requests may range from $5,100 up to $25,000 annually.

The funding period is October 1, 2018 through September 20, 2019.

This program may award funding on a multi-year (up to 5 years) basis.

Who May Apply:

(a) A nonprofit organization:

1. Whose primary mission is cultural, and develops and sustains the cultures, arts, and artists that are rooted in, and reflective of, the cultural heritage and traditions of the community.

2. Whose principal office address, as recorded in the Secretary of State's Office, is in Broward County.

3. Applicants for first year funding must provide a copy of the organization's application for tax-exempt status under Section 501(c)(3) of the Internal Revenue Code. Applicants for subsequent year's funding shall include an IRS temporary status letter or designation letter with their application.

4. Which has a governing board, at least fifty percent (50%) of whom reside in Broward County, which meets regularly and operates under a set of bylaws.

5. Which has operated in its discipline(s) in Broward County for a minimum of one (1) uninterrupted year immediately preceding the date of application.

6. Which has provided services in Broward County for a minimum of six (6) months the preceding year.

Funds may not be used for:
(a) Expenses incurred or obligated prior to or after the award period.
(b) Capital Construction or real property.
(c) Interest or reductions or deficits or loans, fines, penalties or cost of litigation.
(d) Prize money, scholarships, awards, plaques, certificates, or contributions.
(e) Benefits and projects planned primarily for fund raising purposes.
(f) Entertainment and promotions including related expenses such as receptions, food, beverages, flowers, t-shirts.
(g) Projects or organizations whose primary purpose is not secular and programs where the primary effect of funding would be to support a religion.
(h) Travel.
(i) Any expenditure not authorized by Section 1-90 Broward County Code of Ordinances.
(j) Matching funds from another Council funding program.
(k) Admissions to cultural programs, exhibits or performances.
(l) Projects that are restricted to private participation, including those programs which would restrict public access on the basis of race, color, national origin, sex, religion, age, marital status, political affiliation, familial status, disability, sexual orientation, pregnancy, or gender identity and expression (including, but not limited to, Broward County Code, Chapter 161⁄2).
(m) telemarketing
(n) Any other expenditure not authorized by Section I-90 Broward County Code of Ordinances

Applicants should attend the application workshop or schedule a meeting with a member of the Grants Staff.

Program Application Workshops are schedule for September 5, 2017, 2:00 PM and 6:00 PM at:

Main Library
Cybrary Computer Lab, 7th Floor
100 S. Andrews Ave.
Fort Lauderdale

Matching funds are not required in the first or second year. In years four (4) and five (5), applicant should provide a one-to-one match for the incentive funds.

Applicants are urged to plan ahead and begin preparation of their applications well in advance of the due date for submission.

Schedule a meeting with a member of the Division Staff. If you are considering your first application to the CDP program, you will need to schedule at least two meetings with staff: one to discuss your organization's eligibility and preparedness for applying for a CDP incentive program; and, one to review your draft application. If you are submitting a second or subsequent application to the CDP program, you will need to schedule at least one meeting to review your progress in the technical assistance program and to review your draft application.

The deadline to submit an application online is October 15, 2017 at 11:59 PM. If the deadline falls on a weekend/holiday the application will be due on the next business day. Please note that October 15, 2017 falls on a Sunday.

Payment of all grants is on a reimbursement basis and is contingent upon successful completion of the program/project.

Before starting your grant application, please review the funding source's website listed below for updates/changes/addendums/conferences/LOIs.
Apply Online:
https://www.grantrequest.com/SID_391/Default.asp?CT=CT&SA=SNA&FID=35005

Adriane Clarke, Grants Management Specialist
954-357-7530
aclarke@broward.org

James Shermer, Grants Administrator
954-357-7502
jshermer@broward.org

Broward Cultural Division
100 South Andrews Avenue, 6th Floor
Fort Lauderdale, FL 33301-1829

USA: Florida: Broward County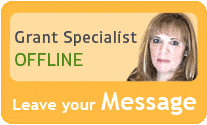 Our team of researchers and grant specialists review hundreds of funding resources daily to make sure GrantWatch.com provides members with the most up-to-date grants.
We have grants for: