Disability Communications Fund (DCF) Grant
Grants to California Nonprofits and Educational Institutions
to Improve Communications Access for People with Disabilities
Agency Type:
Foundation / Corporation

Disability Communications Fund (DCF)

06/19/17

08/09/17

10/06/17 5:00 PM
Grants to California nonprofit organizations and educational institutions to improve information and communications resources for State residents with disabilities. LOIs are due August 9. Proposals are invited for technology and programs under the following three priority areas:

1. Training the Next Generation of AT and AAC Experts

Based on past experience, there appears to be a lack of professionals (specialists and general care providers) able to support communication needs of individuals with disabilities.

Disability Communications Fund (DCF) supports projects that build an organization's capacity to provide services through the training of professionals.

The goal of this priority is to expand the availability of professionals trained in Assistive Technology (AT) and Augmentative and Alternative Communication (AAC) tools and strategies. Training can be provided – by the applicant or for the applicant, and may include sending staff to conferences.

Projects should:
-Use an existing and tested curriculum, or
-Include the development of a curriculum. The curriculum should be documented in a way that facilitates ongoing sharing of knowledge and best practices.

Given other available public sources of funding, the trainings DCF support should focus on no/low tech (low cost, low maintenance, not mechanically complex or electronic,) and mid-tech systems (electronic or battery operated, some complex features, may require some training).

This priority intentionally focuses on the training of professionals. They have the potential to impact the life of many individuals over the course of their career. Therefore, hands-on application of the curriculum involving individuals with disabilities and/or family members as part of the project is useful, but should not be the focus of the project.

2. Facilitating Research and Innovation:

Disability Communications Fund (DCF) supports organizations in the collection and evaluation of data on a service or target population for the purpose of documenting best practices, gap analysis, or advocating for systemic changes. This may include pilot and trial programs prior to seeking government funding.

DCF also wants to encourage the development and testing of new technologies and services that benefit individuals with disabilities. If proven successful, this has the potential to improve the quality of life far beyond the initial project participants.

Grantees need to publicly share the results of their project in one of the following ways:

-Article/paper,
-Presentations, or
-Open sourcing (making specifications of a device, app or program available for public use or modification).

3. Building Network and Replicating Successful Models:

Disability Communications Fund (DCF) wants to foster collaboration and exchange among stakeholders serving the communication needs of Californians with disabilities, so that best practices can be shared and redundancy is avoided.

DCF supports organizations in sharing successful programs or models with one or more partners. One of the collaboration partners needs to be designated as the primary applicant/grantee. A Memorandum of Understanding (MOU) of the partners involved is required.

The project should share best practices, adapting them to geographically, demographically or culturally different settings, as needed. It is not a requirement that the program or model to be shared was previously funded by DCF, however, organizations applying need to be able to clearly demonstrate:

-How the project/model has been successful,
-The need for and benefit of replication,
-That the organization has the capacity to support the replication, and
-Prospective partner organization(s).

DCF also supports projects that improve or expand existing stakeholder and professional networks (California-wide or regional), or intent to establish new networks. Network building may include information collection, outreach, identifying and piloting network activities, and implementation of a long term network strategy.

$1,000,000

One-year Grants:
-Grant amounts will range from $10,000 to $100,000.

Multiyear Support:
-Two-year projects may receive up to $150,000.
-Three-year projects may receive up to $200,000.

The default grant period will be from January 1 - December, 31 2018 to complete proposed activities. An alternate grant period may be requested for well-justified reasons.

DCF awards a) one-year grants and b) multiyear support.

a) One-year Grants:

-Current DCF grantees may re-apply, however, there is no guarantee that continued funding will be granted.

-Organizations may receive up to three one-year grants in a row, after which time they will be required to take a one-year break from submitting a new Letter of Intent (LOI).

b) Multiyear Support

-Funding for two- and three-year projects is now available.

-Only current and past grantees are eligible to apply.

-Only requests under DCF's Funding Priority #2 "Research and Innovation", and #3 "Networks and Replication" are considered for multiyear support

-Generally, organizations may receive a maximum of three years of grants in a row, as described above. HOWEVER, DCF is considering the 2018 grant cycle a transition year, and is making an exception to the three-year funding limit for current 2017 grantees only. A 2017 grantee may receive up to 4 years of continuous funding under this exception.

Examples:
-If 2017 was the applicant's first year of funding, it can apply for a one- , two- or three-year project.
-If 2017 was the applicant's second year of funding, it can apply for a one- or two-year project.

Eligible to apply for DCF funding are:

-Tax-exempt, nonprofit organizations as defined under Section 501(c)(3) of the U.S.Internal Revenue Code;
-Programs that use a fiscal sponsor with 501(c)(3) tax-exempt status; and
-Educational institutions.

The applicant must be a community-based organization which has a physical location in California (not an on-line entity) and provide services which benefit people with disabilities in California.

Please keep in mind that DCF is not making grants to:

a) Individuals
b) Projects providing equipment and services that are covered by other publicly funded programs
c) Projects providing communications equipment and services for employees of the applicant. According to the Americans with Disabilities Act, it is the employer's responsibility to provide reasonable accommodations for their employees.

The applicant webinar is scheduled for Monday, June 19, 2017, at 1:30 PM.

Up to 40% of DCF's annual grantmaking is reserved for multi-year funding.

For one-year grants, a minimum of a 20% match of the total project cost is required.

For multiyear support, depending on the nature of the request and the availability of funds, DCF may only partially approve a request.

With the intention of encouraging grantees to find other sustainable funding sources over time, the match requirement increases annually for multiyear projects:

-30% match of the total project cost in year two
-40% match of the total project cost in year three
-In addition to project-related operating costs, DCF allows applicants to include up to 10% of their request to be used for general operating costs in their budget. Additional general operating costs that exceed the 10% limit may be used to satisfy the match.

Please note: Like many other funders, DCF is reviewing your organization's information on GuideStar.org and FoundationCenter.org as part of the LOI evaluation process. Applicants are strongly encouraged to keep profiles on these platforms up-to-date.

DCF uses a two-stage application process, beginning with a Letter of Intent (LOI). A limited number of applicants will then be invited to submit a Full Application. The entire LOI/Application review process takes approximately four (4) months.

2018 Grant Cycle
-Applicant webinar: Monday, June 19, 2017, at 1:30 PM
-Deadline for LOI submission: Wednesday, August 9, 2017, at 5:00 PM
-Announcement of LOI decisions: Thursday, September 7, 2017
-Applicant webinar: Monday, September 11, 2017, at 1:30 PM
-Deadline for submission of full grant application (by invitation only): Friday, October 6, 2017, at 5pm
-Announcement of grant awards: December 2017
-Projects expected to begin January 1, 2018

More information about what DCF funds may be found here:
http://www.dcfund.us/what_we_fund

Before starting your grant application, please review the funding source's website listed below for updates/changes/addendums/conferences/LOIs.
Register for the June 19 webinar here:
https://us.bbcollab.com/collab/ui/session/guest/3DFBD74432EC5F56C73A1CDF5506ABC2

Apply Online:
https://www.grantinterface.com/Home/Logon?urlkey=ccaf&

Silke Brendel-Evan, DCF Associate Program Officer
(800) 240-6182
grants@dcfund.us

Disability Communications Fund
1333 Broadway, Suite 600
Oakland, CA 94612

P: (800) 240-6182
F: (510) 268-4761


161912_DCF20Funding_Priorities_2018_FINAL.pdf

161912_FINAL20DCF_LOI_Guidelines_2018.pdf

161912_DCF20FAQ_2018_FINAL.pdf

USA: California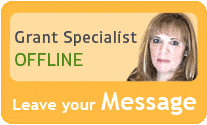 Our team of researchers and grant specialists review hundreds of funding resources daily to make sure GrantWatch.com provides members with the most up-to-date grants.
We have grants for: