EcoAction Community Funding Program
Grants to Canada Nonprofits to Positively
Impact the Environment at a Community Level

Environment and Climate Change Canada

12/12/16

Request a Grant Writer
Grants to Canada community-based nonprofits for projects that protect, enhance, and restore environmental resources. Applicants are encouraged to contact program staff prior to applying to learn more about regional priorities. Projects that build community capacity to sustain positive environmental impacts in the future are encouraged.

In keeping with Environment and Climate Change Canada's national environmental priorities, the Program supports projects that address the following four themes:

-Clean air: to reduce emissions that contribute to air pollutants

-Clean water: to divert and reduce substances that negatively affect water quality or to focus on water conservation and efficiency

-Climate change: to reduce greenhouse gas emissions that contribute to climate change or to deal with the impacts of climate change

-Nature: to reduce biodiversity loss, protect wildlife and plants, and protect and improve the habitat where they live

All projects must clearly demonstrate that activities are measurable, provide opportunities for community members to take action and will result in a positive environmental impact. All projects and activities must include:

Eligible Costs:
-Human resource costs, including salaries and benefits;
-Contract and professional service costs (e.g., accounting, audit, liability insurance costs that are directly attributed to -Carrying out the project, monitoring, legal or other professional fees);
-Travel and field costs (based on Government of Canada rates: www.njc-cnm.gc.ca);
-Material and supply costs;
-Printing and production costs;
-Communication and distribution costs;
-Equipment purchase or rental costs;
-Vehicle rental and operation costs;
-Translation costs; and
-A reasonable share of overhead and/or administrative costs and rent that is directly attributed to program delivery.

Funding is available up to a maximum of $100,000 per project.

The maximum length of a project is 36 consecutive months.

Nonprofit groups and organizations are eligible to receive funding through the EcoAction Community Funding Program.

Examples of eligible groups include:
-Environmental groups;
-Community groups;
-Youth and seniors groups;
-Community-based associations;
-Service clubs; and
-Aboriginal organizations.

The following groups are not eligible but are encouraged to partner with nonprofit organizations to support a project proposal:

-Businesses;
-Educational institutions;
-Individuals; and
-Municipal, provincial, territorial, federal governments.

Groups that are non-incorporated may apply to the EcoAction Community Funding Program. A group may be made up of a few people who get together with a project idea. Within this group, at least two people need to take responsibility for the project.

Note: Government of Canada employees who participate in an EcoAction Community Funding Program project are subject to the Values and Ethics Code for the Public Service.

Not Eligible:
-Projects already under way;
-Continuation of projects previously funded by EcoAction;
-Ongoing programs and activities;
-Activities required by law and/or mandated by all levels of government;
-Projects in relation to the enforcement of or compliance with by-laws in effect;
-Projects focused primarily on the purchase of capital assets;
-Activities focused primarily on research and monitoring activities;
-Activities focused primarily on planning;
-Projects designed only to beautify an area;
-Preparation of formal curriculum materials;
-Core organizational functions (e.g., meetings, maintenance and administration);
-Annual or regular organizational events/campaigns;
-Expenses to attend general conferences;
-Projects focused on recreational activities;
-Purchase or construction of infrastructure (e.g., land, buildings, roads and bridges);
-Purchase of a vehicle;
-Incentives and rebates (but can be used as matching);
-Project activities that fall under the mandate of other government funding programs, including other Environment Canada funding programs (however, may support activities that complement such programs);
-Lobbying, advocacy or fundraising activities (or that can be perceived as such);
-Decontamination of sites;
-Further disbursement of funds to a third party recipient (i.e. micro grants); and
-Projects outside of Canada.

The application deadline is December 12, 2016.

Applicants are advised to contact their regional office for more information on this year's EcoAction funding priorities.

Application Guide and Forms: https://www.ec.gc.ca/ecoaction/default.asp?lang=En&n=EF4E94E3-1

Information for Potential Applicants: https://www.ec.gc.ca/ecoaction/default.asp?lang=En&n=141750CF-1

FAQ: https://www.ec.gc.ca/ecoaction/default.asp?lang=En&n=25155A6D-1

At least 50% of the total value of your project must come from sources other than the Government of Canada. Contributions to your project from sources other than the Government of Canada may be in the form of cash, in-kind support, or a combination of both.

Before starting your grant application, please review the funding source's website listed below for updates/changes/addendums/conferences/LOIs.
Regional Offices:

Newfoundland and Labrador, New Brunswick, Nova Scotia and Prince Edward Island
45 Alderney Drive
16th Floor, Queen Square
Dartmouth, Nova Scotia B2Y 2N6
902-426-8521 / 1-800-663-5755 (toll-free)
ec.ecoaction.qa.ec@canada.ca

Quebec
801-1550, D'Estimauville Avenue
Quebec, Quebec G1J 0C3
418-648-3444 / 1-800-663-5755 (toll-free)
ec.ecoaction.qa.ec@canada.ca

Ontario Region
4905 Dufferin Street
Toronto, Ontario M3H 5T4
416-739-4734 /1-800-661-7785 (toll-free)
ec.ecoactionon.ec@canada.ca

West & North Region
Alberta, Manitoba, Saskatchewan, Northwest Territories and Nunavut
123 Main Street, Suite 150
Winnipeg, Manitoba R3C 4W2
204-984-5952 / 1-800-567-1570 (toll-free)
ec.ecoactionouestnord-ecoactionwestnorth.ec@canada.ca

British Columbia and Yukon
#201-401 Burrard Street
Vancouver, British Columbia V6C 3S5
1-800-567-1570 (toll-free)
ec.ecoactionouestnord-ecoactionwestnorth.ec@canada.ca

Canada: Alberta British Columbia Manitoba New Brunswick Newfoundland and Labrador Northwest Territories Nova Scotia Nunavut Ontario Prince Edward Island Quebec Saskatchewan Yukon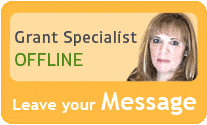 Libby is constantly in touch with grant program managers and reviews numerous publications to make sure that GrantWatch.com provides subscribers with the most up-to-date grant opportunities.
We have grants for:

Need help?
Hi, I would love to guide you through the site.
Please feel free to call or write.
Customer Sales & Support
(561) 249-4129