Recreational Trails Program (RTP) Grant
Grants to Wyoming Agencies and Organizations to
Develop and Maintain Outdoor Recreational Areas

Wyoming State Parks, Historic Sites and Trails (SPHST)

11/20/16

Request a Grant Writer
Grants ranging from $1,000 to $50,000 to Wyoming local, State and federal agencies, and private organizations to develop and maintain recreational trails for all users. Funding is available for environment and safety education projects as well as trail projects for motorized and non-motorized vehicles.

Permissible uses include:
- Environmental benefit or mitigation
- Environmental or safety education
- Maintenance, improvement, grooming of existing trails
- Equipment purchase or lease
- New trail construction
- Development of trail-side and trail-head facilities
- Acquisition (must be a willing seller)
- Community trail/pathway construction or maintenance

Non-eligible uses:
- Condemnation of any kind of interest in property;
- Construction of any recreational trail on Bureau of Land Management or National Forest System lands for motorized uses unless:
- such lands have been allocated for uses other than wilderness or wilderness study area by an approved agency resource management plan or have been released to uses other than wilderness by an Act of Congress;
- such construction is otherwise consistent with the management direction in such approved land and resource management plan;
- Upgrading, expanding or otherwise facilitating motorized use or access to trails predominately used by non-motorized trail users, and as of May 1, 1991, motorized use is either prohibited or has not occurred;
- Planning, engineering, and design work are not eligible uses of grant funds as "stand alone" projects. However, this work can be eligible for up to 15 percent of a project's total cost (Example: $50,000 trail construction project could include up to $7,500 in planning or engineering costs);
- Law enforcement;
- Facilities (shelters, toilets, picnic tables, benches, etc.) located in park settings which are not clearly and solely for the benefit of trail users versus an enhancement for park users;
- Landscaping at trailheads or along trail corridors unless there is a clear utilitarian purpose, such as to provide a screen or buffer between the trail and adjacent landowner concerns

Trail grants: $2,500 - $50,000
Environment and safety education grants:
$1,000 - $30,000

Projects must be able to be completed within two years of the grant date.

Trail grants are available for local, state or federal agencies, and qualifying private organizations.

Awards are based on an 80% federal share with a 20% local match required.

All projects that are obligated for funding will be required to register with Duns and Bradstreet to obtain a Duns Number. Funding will NOT be obligated without a Duns number. Please log on to www.dnb.com for more information. Registration is free.

Before starting your grant application, please review the funding source's website listed below for updates/changes/addendums/conferences/LOIs.
Tracy Williams, Grant Administrator
Tracy.Williams@wyo.gov
307-777-8681

Wyoming State Parks, Historic Sites and Trails
Barrett Building - 4th Floor
2301 Central Avenue
Cheyenne, WY 82002

USA: Wyoming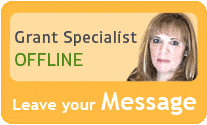 Libby is constantly in touch with grant program managers and reviews numerous publications to make sure that GrantWatch.com provides subscribers with the most up-to-date grant opportunities.
We have grants for:

Need help?
Hi, I would love to guide you through the site.
Please feel free to call or write.
Customer Sales & Support
(561) 249-4129