World Diabetes Foundation (WDF) Grant
Grants to USA, Canada, and International Organizations for
Diabetes Advocacy, Care, and Prevention in Developing Countries
Agency Type:
Foundation / Corporation

World Diabetes Foundation (WDF)

06/15/17

Request a Grant Writer
Grants to USA, Canada, and International organizations for programs that support diabetes prevention, patient care, and advocacy in developing countries. Funding will be broken up into two areas, interventions and focus areas. Grant support is meant for those least able to withstand the burden of disease.

Programs can be divided by the purposes of the activity: either to stimulate Access to Care, Prevention or Advocacy, and Stakeholder Engagement. These areas are named Interventions.

Programs can be divided by the disease state addressed within diabetes: Type 2 diabetes, diabetes foot or eye care, pregnancy and diabetes, Type 1 diabetes, and tuberculosis and diabetes. These are the focus areas.

Projects should also:

- Produce sustainable outcomes that continue after WDF funding ceases.
- Require only a minimum amount of funding from WDF for salaries and indirect costs.

Project proposals need to be formulated and owned locally. Projects should provide focused, replicable and sustainable solutions with the potential to prevent diabetes and improve the lives of people with the disease.

Applicants should have a successful track record within diabetes care and prevention, or be aligned with locally anchored partners or networks with such a track record. WDF expects co-funding from applicants, stakeholders, and/or other partners involved. The Foundation expects support from, or involvement by, local health authorities in the country or area in question.

Collaboration with diabetes associations or similar civil society groups within the field of chronic disease prevention and care is welcome.

Country-specific barriers:

- Applications from Tanzania are not accepted due to the ongoing National Diabetes and NCD Program.
- Projects in India focusing on diabetes and tuberculosis: Following the adoption of new policy directive, all patients registered with TB in India will be screened for diabetes. As a consequence hereof, WDF will no longer support such screening components.

WDF does not fund:

- Basic laboratory research or other exclusive research projects
- Travel grants for conferences, meetings, etc.
- Educational grants - long term basic or specialised training
- Construction of buildings
- Primary health care work without focus on/link to diabetes prevention and care
- Establishment of parallel structures
- Heavy equipment (vehicles and tertiary care equipment, unless justified)
- External consultants (unless justified by project design and local context)
- North/South approach (unless justified by local context)
- Project staff component should be kept to a minimum
- Per diem/daily allowances where cost of participation, transport, and accommodation is also covered through the project budget

WDF does not fund core running costs, including:

- Salaries/incentives for permanent staff
- Rent
- Electricity
- Internet
- Telephone
- Procurement of medicines
- Test consumables (strips, reagents etc.) for long term continuation of activities

After submission of your application, you will receive an acknowledgment of receipt within two weeks. Should this not be the case, kindly contact the Secretariat to ensure that your application has been registered.

Deadlines:
- December 15, 2016, Response by April 3, 2017
- June 15, 2017, Response by October 20, 2017

Focus Areas: https://www.worlddiabetesfoundation.org/what-we-do
Application Forms: https://www.worlddiabetesfoundation.org/how-apply/application-forms
Deadlines: https://www.worlddiabetesfoundation.org/how-apply/deadlines
How to apply: https://www.worlddiabetesfoundation.org/how-apply
Guideline for new WDF application templates: https://www.worlddiabetesfoundation.org/files/guideline-filling-out-wdf-application-forms

Before starting your grant application, please review the funding source's website listed below for updates/changes/addendums/conferences/LOIs.
World Diabetes Foundation Secretariat
Brogårdsvej 70
DK-2820 Gentofte
Denmark

Email: contact@worlddiabetesfoundation.org
Phone: +45 44 42 25 56

If you need further guidance, please contact: mehp@worlddiabetesfoundation.org

USA: Alabama; Alaska; Arizona; Arkansas; California; Colorado; Connecticut; Delaware; Florida; Georgia; Hawaii; Idaho; Illinois; Indiana; Iowa; Kansas; Kentucky; Louisiana; Maine; Maryland; Massachusetts; Michigan; Minnesota; Mississippi; Missouri; Montana; Nebraska; Nevada; New Hampshire; New Jersey; New Mexico; New York City; New York; North Carolina; North Dakota; Ohio; Oklahoma; Oregon; Pennsylvania; Rhode Island; South Carolina; South Dakota; Tennessee; Texas; Utah; Vermont; Virginia; Washington, DC; Washington; West Virginia; Wisconsin; Wyoming
USA Territories: American Samoa (USA) Guam (USA) Puerto Rico (USA) Virgin Islands (USA) Northern Mariana Islands (USA)
USA Compact Free Associations: The Federated States of Micronesia (USA) Marshall Islands (USA) Republic of Palau (USA)
Canada: Alberta British Columbia Manitoba New Brunswick Newfoundland and Labrador Northwest Territories Nova Scotia Nunavut Ontario Prince Edward Island Quebec Saskatchewan Yukon
Israel
International country outside of the USA, Israel and Canada.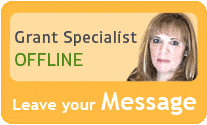 Libby is constantly in touch with grant program managers and reviews numerous publications to make sure that GrantWatch.com provides subscribers with the most up-to-date grant opportunities.
We have grants for:

Need help?
Hi, I would love to guide you through the site.
Please feel free to call or write.
Customer Sales & Support
(561) 249-4129