James M. Cox Foundation Grants
Grants to USA Nonprofits and Agencies in Multiple
States for Education, Environment, and Health
Agency Type:
Foundation / Corporation

James M. Cox Foundation

10/15/16 11:59 PM

Grants to USA nonprofits and government agencies in multiple states for a range of programs that benefit local communities where the funding source operates. Priority will be given to programs in the areas of environmental stewardship, children's education (ages 0-5), empowering families and individuals for success and health.

Two types of support are considered: requests for capital campaigns and requests for special projects. Awards for basic operating expenses and support for annual programs usually are not granted.

Eligible states are: Alabama, Arizona, Arkansas, California, Colorado, Connecticut, Florida, Georgia, Hawaii, Idaho, Illinois, Indiana, Kansas, Louisiana, Maryland, Massachusetts, Michigan, Minnesota, Mississippi, Missouri, Nebraska, Nevada, New Jersey, New Mexico, New York, New York City, North Carolina, Ohio, Oklahoma, Oregon, Pennsylvania, Rhode Island, South Carolina, Tennessee, Texas, Utah, Virginia, Washington, Washington, DC, Wisconsin, and Wyoming.

Your organization is eligible to submit an application if it meets the following criteria:

Organizations must be federally tax-exempt under Section 501(c)(3) of the IRS Code with non-private foundation status, or an equivalent government entity under section 170 (c)(1);

Organizations must be located in the United States and in an area where Cox Enterprises or one of its subsidiaries does business. For a complete list of Cox businesses and information on specific locations, view the location map: http://locations.coxinc.com/

Organizations located outside of metropolitan Atlanta, Georgia must have a letter of endorsement from a local Cox business leader to submit along with the application for consideration.

Only one request will be considered per organization during a 12-month period. For example, if a request is submitted in March, whether it is approved or declined, another request will not be considered until the following March.

Grants are limited to public charities when it is demonstrated that the proposed project or program will have a particular impact in one of the focus areas. Grants are not made to individuals nor are loans provided to organizations or individuals.

Grants are not provided for the following:
- Individuals or nonprofit organizations for the purpose of benefitting an individual;
- General operating purposes, salary expenses or other administrative costs;
- Seed money, or as the only funding source of an organization;
- Endowment funds;
- Conferences and seminars;
- Fundraising events or sponsorships (dinners, golf tournaments, walks/runs, benefits, raffles, tickets, tables, etc.);
- Organizations whose primary purpose is to influence legislation;
- Political causes, candidates, organizations or campaigns;
- Religious organizations for general operating support, sanctuary construction/renovation or mission-focused work. However, funding will be considered for requests from religious organizations with 501(c)(3) status to provide project-specific social services outreach programs that are not limited to a specific religious affiliation;
- Or organizations or programs that discriminate on the basis of race, color, sex, sexual orientation, age, religion, national or ethnic origin, or physical disability.

The deadlines for midnight receipt of applications are:
February 15 for a response by May 15.
June 15 for a response by September 30.
October 15 for a response by December 31.

For FAQs go to http://coxenterprises.com/corporate-responsibility/giving/foundations/frequently-asked-questions.aspx

Before starting your grant application, please review the funding source's website listed below for updates/changes/addendums/conferences/LOIs.
To begin a new application go to: https://www.grantrequest.com/SID_1103/Default.asp?CT=CT&SA=SNA&FID=35004&SESID=27859&RL

To access saved applications or submit a grant report go to: http://coxenterprises.com/media/101944/login_btn.png

coxfoundation@coxinc.com

http://coxenterprises.com/media/126941/online%20application%20preview%20doc.pdf

USA: Alabama Arizona Arkansas California Colorado Connecticut Florida Georgia Hawaii Idaho Illinois Indiana Kansas Louisiana Maryland Massachusetts Michigan Minnesota Mississippi Missouri Nebraska Nevada New Jersey New Mexico New York New York City North Carolina Ohio Oklahoma Oregon Pennsylvania Rhode Island South Carolina Tennessee Texas Utah Virginia Washington Washington, DC Wisconsin Wyoming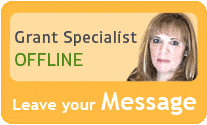 Libby is constantly in touch with grant program managers and reviews numerous publications to make sure that GrantWatch.com provides subscribers with the most up-to-date grant opportunities.
We have grants for:

Need help?
Hi, I would love to guide you through the site.
Please feel free to call or write.
Customer Sales & Support
(561) 249-4129