Grants to Professional Musicians - Individuals - Short-Term
Grants to Canada Professional Musicians for
Artistic Projects and Creative Development

The Canada Council for the Arts

11/01/16 Postmarked

Request a Grant Writer
Grants of up to $12,000 to Canada citizens or permanent residents (living in Canada or abroad) who are emerging, mid-career, or established musicians, for creative projects and professional development. It is recommended that new applicants contact program staff several weeks before the deadline. Applicants include performers, composers, arrangers, conductors, and opera stage directors.

Funds can be used for subsistence, project, and transportation costs related to a program in order to allow artists to dedicate concentrated time to their projects.

The general fields of music funded by this opportunity are:

- Aboriginal
- Classical/Contemporary
- Electroacoustic/Audio Art
- Folk/traditional
- Improvised/Musique actuelle
- Instrumental
- Jazz
- Songwriting
- World

You can use these grants to work with another artist (from the same artistic discipline), but only on creation projects. There can be only two artists involved in collaborative creation projects, and both must meet the program's eligibility criteria.

A project is considered to be a collaboration when both artists share the artistic control of the project and share the intellectual property rights of the resulting works.

You can use these grants:

- For advanced studies in composition or performance, privately or at an institution (the Canada Council considers advanced studies to be those beyond a Bachelor of Music degree or equivalent private or self-training)
- To compose (personal creative projects only)
- To arrange (personal arranging projects only)
- To research new forms of music or new repertoire that will be used in the performance or composition of new works
- For collaborative creation projects
- To attend workshops/master classes for individual professional artistic development.

A studio-apartment at the Cité Internationale des Arts in Paris is also available (to applicants to the Long-Term Grants component only) at a moderate cost.

It may be used for a period of three months to one year, from 1 September to 31 August.

Up to $12,000

Short-Term Grants are available for a maximum period of six months. Activities normally funded through this program will be eligible in the New Funding Model, starting April 1, 2017.

To apply to the Canada Council for the Arts, you must be a Canadian citizen or have Permanent Resident status, as defined by Citizenship and Immigration Canada. You do not need to be living in Canada when you apply.

You must also meet the Canada Council's definition of a professional artist, which is an artist who:

- Has specialized training in the field (not necessarily in academic institutions)
- Is recognized as a professional by his or her peers (professional artists working in the same artistic tradition)
- Is committed to devoting more time to artistic activity, if possible financially
- Has a history of public presentation in a professional context.

To apply to this program, you must also meet the eligibility requirements of one of the following categories of applicants:

- Emerging artists are those who have completed their basic training (university graduation or equivalent in specialized or self-training). They must have had an active professional career for at least two years, in addition to performances while in academic settings or as part of specialized training programs.

- Mid-career artists are no longer full-time students and must have completed their formal studies at least five years before applying to this program. They must have had an active professional career for at least five years.

- Established artists are those who have made a nationally or internationally recognized contribution to music over a number of years and are still active in their profession.

First-time applicants are recommended to contact the Program Officer several weeks before the deadline.

Individual applicants who are Deaf or have disabilities may apply for additional funds to cover expenses for specific services and supports which are required to carry out the proposed eligible activities. The Canada Council may contribute toward the access related expenses, subject to available funds.

Through this program, the Music Section co-administers several prizes. From the list of successful applicants, a peer assessment committee selects the winner for each prize. You do not apply for these prizes. You will automatically be considered for any prizes whose criteria you meet.

- The Victor Martyn Lynch-Staunton Awards, worth $15,000, are awarded annually for outstanding artistic achievement by Canadian mid-career artists.

- A bequest from the estate of the late John B.C. Watkins, the J.B.C. Watkins Awards provide fellowships of $5,000 to professional Canadian artists who are graduates of a Canadian university, post-secondary art institution or training school and who are pursuing graduate studies in any country other than Canada.

- The Bernard Diamant Prize, worth $5,000, offers professional Canadian classical singers under age 35 an opportunity to pursue their career through further studies.

- The Joseph S. Stauffer Prizes, worth $5,000 are made to honor the memory of the benefactor whose bequest to the Canada Council enables it to "encourage young Canadians of outstanding promise or potential."

- The Robert Fleming Prize, worth $2,000, which is intended to encourage the careers of young creators of music, is awarded annually in memory of Robert Fleming to the most talented Canadian music composer in the grant competition for composers in classical music.

Note: Your personal information provided in the application form will be used to determine your eligibility for the prizes. In addition, you may receive any of these prizes only once in your lifetime.

- You may receive a maximum of two grants to professional artists from the Canada Council in any 48-month period.

- You may apply for only one Canada Council grant to professional artists in any Canada Council fiscal year (1 April to 31 March).

Note: There is an exception to the condition that you can apply for only one grant to professional artists in any fiscal year. If you are an established professional artist who works in more than one discipline (for example, in both visual arts and music) and you meet the eligibility criteria as an established artist in both disciplines, you may apply to two different Canada Council grants to professional artists programs in one fiscal year. You must, however, accept or refuse the first grant that the Canada Council offers you (within two weeks of the date of the grant notification). If you accept the first grant offered, your other application will be withdrawn from competition.

Before starting your grant application, please review the funding source's website listed below for updates/changes/addendums/conferences/LOIs.
Apply online: https://go.canadacouncil.ca/index.aspx?l=e

1-800-263-5588 (toll-free) or 613-566-4414, and the extension number
TTY: 1-866-585-5559

André Jutras, ext. 5071
andre.jutras@canadacouncil.ca

Pierre-Louis Pinel, ext. 5073
pierre-louis.pinel@canadacouncil.ca

Canada Council for the Arts
150 Elgin St
P.O. Box 1047
Ottawa, Ontario K1P 5V8

Canada: Alberta British Columbia Manitoba New Brunswick Newfoundland and Labrador Northwest Territories Nova Scotia Nunavut Ontario Prince Edward Island Quebec Saskatchewan Yukon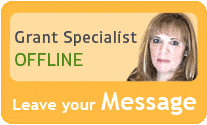 Libby is constantly in touch with grant program managers and reviews numerous publications to make sure that GrantWatch.com provides subscribers with the most up-to-date grant opportunities.
We have grants for:

Need help?
Hi, I would love to guide you through the site.
Please feel free to call or write.
Customer Sales & Support
(561) 249-4129