Community Arts Access
Grants to North Dakota Nonprofits and Agencies for
Arts Programming in Rural and Underserved Communities

North Dakota Council on the Arts

11/01/16

Request a Grant Writer
Grants ranging from $1,250 to $3,000 to North Dakota nonprofits and local government agencies to present arts activities in rural communities. Applications will also be considered from non-rural communities for programs that target an underserved audience. Examples of supported activities include, but are not limited to:

-Creation of a public work of art, such as a mural or installment piece, that incorporates talent within the community.

-Public performances of music, dance, or theatre.

-An exhibition.

-Arts festival or performance series.

-Touring performance or exhibit.

Program Goals:

-To support the arts in small and rural communities in North Dakota, as well as special constituencies and underserved audiences.

-To encourage existing arts organizations to build upon themselves, enhance the artistic quality of their programming, and expand their audience.

-To promote knowledge and appreciation of the arts in small and rural communities, special constituencies, and underserved audiences.

-To provide "start-up" funds for new or emerging arts organizations and programming.

-To provide opportunities for North Dakota artists.

$1,250 - $3,000

Projects may take place between January 1 and June 30.

The following guidelines apply in addition to the Council on the Arts' general guidelines, rules, and regulations:

-Applicant must be registered as a nonprofit organization with the state of North Dakota, or be a community or county government entity. Organizations may form partnerships with state agencies, for-profit businesses, and other entities, but the nonprofit organization must be the applicant.

-Programming must be in a community of less than 6,000 people, according to the most recent census available, or serve a special constituency or underserved audience in a community of any size.

ALL organizational applicants who apply for a grant from the NDCA are now required to register for a DUNS number online before receiving grant funds.

To register for a DUNS number visit: http://www.americansforthearts.org/by-program/reports-and-data/research-studies-publications/creative-industries/sign-up-and-be-counted/registering-for-a-d-u-n-s-number

Not Funded:
-Applicants supported by the Council's Institutional Support or Special Projects programs in the same fiscal year (July 1 - June 30).
-Applicants already supported through Community Arts Access in the same fiscal year.
-Activities that qualify for the Council's Artist in Residence or Teacher Incentive grant programs.
-Reduction of a debt or deficit.
-Capital improvements or permanent acquisitions.
-Projects completed at the time of application.

Review the Council on the Arts' general guidelines, rules, and regulations: http://www.nd.gov/arts/ndca-general-guidelines

Granted funds can cover no more than half of the total expenses for the programming. A 1:1 match is required. Of this, up to 50% may be documented in-kind.

Deadlines:
-April 1 for programs taking place between July 1 and June 30.
-November 1 for programs taking place between January 1 and June 30.

Applications must be submitted electronically. Review the Applicant User Role and Registration Instructions (attached below) for more information about the online application process.

If the application is approved, the recipient will receive an award letter via email usually within 45 days after the deadline. If the application is rejected, the applicant will receive a letter explaining the reason for rejection.

Final reports must be submitted online within 30 days of completion of the activity.

Before starting your grant application, please review the funding source's website listed below for updates/changes/addendums/conferences/LOIs.
Amy Schmidt, Public Information Officer
(701) 328-7594
amschmid@nd.gov

North Dakota Council on the Arts
1600 East Century Avenue, Suite 6
Bismarck, ND 58503-0649

http://www.nd.gov/arts/sites/default/files/PDFs/grantees_roles_and_registering_profile_in_go_tutorial.pdf

USA: North Dakota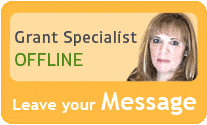 Libby is constantly in touch with grant program managers and reviews numerous publications to make sure that GrantWatch.com provides subscribers with the most up-to-date grant opportunities.
We have grants for:

Need help?
Hi, I would love to guide you through the site.
Please feel free to call or write.
Customer Sales & Support
(561) 249-4129