Recreational Trails Program (RTP) Grant
Grants to Alaska Nonprofits, Agencies, and Educational
Institutions for Recreational Trail Repair and Development

Alaska Department of Natural Resources (DNR), Division of Parks and Outdoor Recreation (DPOR)

10/15/17 Electronic Receipt and Postmarked by Date
Grants starting at $5,000 to Alaska nonprofits, educational institutions, and government agencies for the development and repair of recreational trails and related facilities. Funding is available for projects involving either motorized or non-motorized trails. This program also supports trail-related environmental protection, as well as safety and education projects.

Permissible Uses of Funds:

Public Benefit:

All projects using grant funds must have public benefit, be accessible, open and available to the public, or targeted to a broad segment of the public. Grant funds should not be used for projects that have such limited capacity that only a few paying (or potentially paying) guests have access to the product of the project. The portions of a project using grant funds must be open for public use or viewing at all times and when visitors are likely.

Due to the variety of project proposals, it is possible that while a proposed project may satisfy the eligibility and rating criteria, the completed project may not provide adequate public trail use opportunity. Therefore, the DNR reserves the right to disqualify proposals in which:

1. Costs exceed the public benefits.
2. The project only benefits a small number of people.
3. The project is not shovel-ready.
4. The site requires intensive and high-cost future management.
5. Any other situations where the public benefit will not justify the federal investment.
6. Adequate control and tenure of property is not provided.
7. The project manager failed to post the mandatory public notice.
8. There is significant public dislike or concern about the project.

This list is not comprehensive and other reasons for disqualification may be determined as projects are reviewed. When a project application is denied for any reason, the project sponsor will be notified in writing.

Permissible Uses:

Trail Development, Maintenance, Acquisition and Assessment:

-Development and repair or restoration of existing trails;
-Development and rehabilitation of trailside and trailhead facilities, bridges, signs, and trail linkages, -Purchase and lease of trail construction and maintenance equipment, (check rules for match requirement) Construction of new trails (with restrictions for new trails on Federal lands);
-Acquisition of easements or property for trails; and
-Assessment of trail conditions for accessibility and needed repair.

Safety, Signing, and Education Projects:

Development and dissemination of publications and operation of educational programs to promote safety and environmental protection related to the use of recreational trails, including supporting non-law enforcement trail safety and trail use monitoring patrol programs, and providing trail-related training (limited to 5 percent of a State's apportionment, but not required). Please be aware that because of this, the competition is generally very high in this category.

These projects must offer training or materials either free to the public, or at a very minimal cost, also see Public Benefit section below. All reimbursable expenses must be allocated to educational materials.

Allowable Labor Costs:

Labor costs, including force-account labor and contractual services costs that are directly related to and required for completing the project are acceptable and may be reimbursed. Costs shall be based on the actual wage or services rate paid.

-Non-motorized and diversified projects: $5,000 - $50,000
-Motorized projects: $5,000 - $100,000

Grant agreements may be good for up to two years; however, you must turn in a reimbursement request for within the first eight months after FHWA approval or risk federal de-obligation of your project.

Federal, State, local and tribal governments, nonprofit organizations, and educational institutions are eligible to apply for the RTP grants.

Businesses and individuals are not eligible.

Non-Permissible Uses of Funds:

1. Grants are for public purposes and benefits (see public benefit section in this document). They are not intended to provide financial gain to any individual, business, or organization. Applicants must comply with all ordinances, laws, and regulations. Misappropriation of grant funds, or other fraudulent activities may result in criminal prosecution and loss of eligibility to apply for future DPOR or FHWA grants.

2. Grant funds may not be used exclusively for planning, assessment, engineering, or designing. Grant funds may be used for some project planning, assessment, engineering, or design costs if those costs are incidental to one of the permissible project types listed above. The rule of thumb is that this money is intended to be put on the ground in the form of a recreational trail asset (shovels in the soil). If your project can be put in a binder on a shelf and forgotten, it will not meet the intent of this program. Furthermore, grant funds may not be used for planning, designing, developing, or maintaining paved sidewalks and trails along roads, which are primarily intended for transportation rather than recreation. An exception would be a trail that forms an important missing link between two existing recreational trails or recreational trail segments, or trails in rural parts of Alaska used for transportation, subsistence, and recreation.

3. Grant funds may not be used to pay for food, drink, gratuity, tax, sales tax, or court costs involving litigation. However, these costs (except for alcohol) may be documented and used as part of the matching requirement if they are directly related to the accomplishment of the proposed project, and if they are incurred within the grant term. Only approved budget items will be permissible uses of grant funds.

**The one exception is food for remote or "spike" camps essential for the completion of the project. If the crew cannot go home at night or access places to buy food, then it is considered remote. These food costs must be clearly identified in the proposed and approved budget as such, and must be reasonable and non-excessive (basic camp food, not steak and lobster). This spike camp food may not simply be identified as "per diem" or "subsistence". These terms have different and ambiguous meanings and should be clarified.

a. Common items found on spike camp food receipts that are NOT eligible for reimbursement include newspapers, magazines, prepared coffee/tea (Starbucks), tobacco, toiletries, and personal hygiene products.

This program is unique in that, legislatively it is specified that 30% of the funds must be expended for projects that are strictly motorized, 30% will be spent on projects that are strictly non-motorized, while at the same time encouraging the development of projects that provide for multiple uses, 40 % must be spent on projects called diversified. Of the funds available for the RTP, a maximum of 5% may or may not be used for safety and education focused projects and it is up to the state to make this decision.

This program allows for a federal grant share of 90% for all applicants. The applicant is responsible for the remaining 10% of the total project cost. The matching share may include volunteer labor, in-kind services, cash donation of private funds, or materials and services at fair market value. *Federal agencies applying for grant funds must provide a 5% non-federal match of the total project cost.

This is a reimbursement program; therefore, the grant recipient must pay 100% of the cost for any eligible project line item before submitting a request for reimbursement.

Before applying for a grant, it is important to spend some time discussing project needs, goals, and expectations with your local trails community.

Applicants are advised to consider potential consequences of the project such as environmental, historical, and archaeological impacts (these must be documented and minimized), permits (you may need to obtain various permits prior to obtaining approval), and possible opposition (some people may oppose your project for various reasons, including concerns about property rights, liability, safety, or historic resource and environmental impacts). An applicant should review the work plan and staff resources to assess a contractor's ability to take on the proposed project.

Technical assistance is available to all grant applicants through DPOR. DPOR staff will make every effort to answer questions regarding application procedures, proper completion of grant applications, and criteria used for project selection and grants awards. One key to receiving technical assistance is lead- time. Requesting technical assistance a few days before the project application deadline does not allow adequate time for review. For assistance, please contact the Grant Administrator or State Trails Program Coordinator. The earlier in the process the better.

Grant Cycle:

-Application documents are available July 15th

-Mandatory public notice posting deadline: September 15

-Applicants must submit their application to the State Trails Program Coordinator BOTH electronically and by mail. All applications must be received electronically (by email) (NEW) October 15 AND postmarked by October 15, unless you are unable to send it electronically, and have made special arrangements, prior to the deadline, to only mail a hard copy.

-Applications sent to ORTAB mid-November

-ORTAB meeting in Anchorage, January

-Notification to applicants about their tentative award: January - February

-Agency Review: March - April

-Grant Agreements: Dependent on agency review and federal approval, April - August 15

Before starting your grant application, please review the funding source's website listed below for updates/changes/addendums/conferences/LOIs.
For project development, application assistance, and programmatic questions contact:

Darcy Harris, State Trails Program Manager
(907) 269-8699
darcy.harris@alaska.gov

For general questions regarding an existing grant, or reimbursement status contact:

Steve Neel, Grant Administrator
(907) 269-8709
steve.neel@alaska.gov

Alaska State Trails Program
550 W. 7th Avenue, Suite 1380
Anchorage, AK 99501-3561

Fax: (907)269-8907

USA: Alaska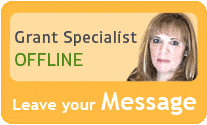 Our team of researchers and grant specialists review hundreds of funding resources daily to make sure GrantWatch.com provides members with the most up-to-date grants.
We have grants for: