Cultural Grant
Grants to Moncton, New Brunswick Nonprofits
for Arts and Culture Projects and Operations

City of Moncton

12/15/16 Postmarked or Received

Request a Grant Writer
Grants ranging from $1,000 to $2,000 to Moncton, New Brunswick nonprofit organizations for arts and cultural projects and programs. Funding is available for one-time project support, as well as operations support for qualifying arts organizations. Funding categories are outlined as follows:

1) Projects - One time funding provided to a successful Applicant to support the creation and presentation of cultural and artistic projects of merit which strengthen the Moncton community; to foster a dynamic cultural and artistic life and support the development of artists and their work in Moncton; to encourage new arts and culture initiatives; to provide cultural and artistic experiences for audiences; and to enhance the civic identity, quality of life, economic prosperity and reputation of the City of Moncton.

2) Operations - One-time funding provided to a successful Applicant to support the stability, flexibility and leveraging capacity for diverse funding opportunities for arts organizations fulfilling a significant role in the Moncton community. Operating Grants will support core expenses, salaries and programming costs for organizations including festivals as well as organizations that present programming year round.

Eligible Expenses:
-Performances (theatre, music, dance, poetry/literature)
-Workshops or seminars on the subject of arts, culture or heritage
-Demonstrations of the creative arts, culture or heritage
-Educational programs or activities in the creative arts, culture or heritage
-Studies, plans, or strategies related to arts, culture, or heritage
-Projects that enhance the public's understanding and appreciation of local artists and artisans
-Projects that expose local audiences to national and international artists and artisans of exceptional merit
-Site-specific or street art projects that engage a geographic community or distinct group of people (e.g. youth, children, seniors, race/ethnicity) in the construction of an art installation (examples include a graffiti wall, landscape sculpture, large-scale assemblage or collage, or a mass performance)
-Educational materials such as books, booklets, posters, CDs, videos, films, interpretation panels, exhibition catalogues, interpretive markers
-Purchase or repair of specialized equipment or infrastructure, as well as for buildings, land, and large equipment
-Accessibility upgrades for persons with special needs (e.g. Wheelchair ramp, railings, wheelchair lift)

Grants allocated through this program are typically between $1,000 and $2,000. Only under exceptional circumstances will grants over $3,000 be awarded.

All grants will be reviewed annually and are valid for one year only. They are not subject to automatic renewal.

Organizations must meet the following criteria to be eligible for a Cultural Grant:

-Registered nonprofit organizations;

-Organizations with significant community involvement;

-Organizations that respect the Canadian Charter of Human Rights and promote equal access and opportunity for all persons;

-Be in good standing with no outstanding or defaulted final reports from previous project grants.

Ineligible organizations and projects:
-Commercial or for-profit organizations
-Individuals
-Religious or political groups: The municipality is non-partisan and does not provide
financial support to a group espousing religious or political doctrine
-Educational institutions or schools unless applicant is a registered non-profit
organization
-Commercial galleries or business locations (bars, restaurants, private clubs)
-Organizations that have defaulted on past project grants or that have received financial assistance from the City and have outstanding final reports or budgets

Ineligible Expenses:
-Commercial art sales, private galleries, institutional or private collections
-Art competitions or art markets
-Trade shows
-Art therapy
-General fund-raising and fundraising events
-Travel expenses
-Commercial publishing or sales (including books, CDs and DVDs)
-Sales, exhibitions or events held in commercial premises
-Funding that is primarily for the benefit of an individual
-Retroactive funding (projects substantially completed before the grant deadline)
-Deficits or debts
-Free or discounted tickets
-Fellowships, scholarships, or bursaries
-Contributions to an endowment fund
-Reunions, alumni associations, anniversaries, memorial services
-Expenses to further a profit venture or advantage a for-profit partner - funding must be used to further the applicant's nonprofit activities
-Expenses related to programs/services that are delivered by an organization aligned with any religious group or political party

Applications must be submitted or postmarked on or before the deadline December 15 of each year. Applications must be submitted either electronically or in person to the City Clerk's Office.

Successful Applicants will be notified in writing by March 15 of their grant amount.

Before starting your grant application, please review the funding source's website listed below for updates/changes/addendums/conferences/LOIs.
Online Application Form: http://www.moncton.ca/Government/Departments/City_Clerk/Grants_to_non-profit_cultural_organizations_-_Application_Form.htm

Applications may be submitted electronically to: info.clerk@moncton.ca

Direct questions to:

Joanne Duguay
Cultural Development Officer
20 Mountain Rd
Moncton, NB E1C 2J8
(506) 859-2626
joanne.duguay@moncton.ca

Or email: grants@moncton.ca

Organizations within or holding principle activities within the geographic boundary of the City of Moncton may apply.

Canada: New Brunswick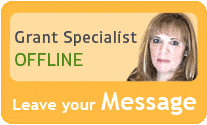 Libby is constantly in touch with grant program managers and reviews numerous publications to make sure that GrantWatch.com provides subscribers with the most up-to-date grant opportunities.
We have grants for:

Need help?
Hi, I would love to guide you through the site.
Please feel free to call or write.
Customer Sales & Support
(561) 249-4129