Technical Assistance Grants
Grants to USA Courts, Nonprofits, Businesses,
Individuals, and IHEs to Improve the Court System

State Justice Institute

11/01/16

Grants of up to $50,000 to USA nonprofits, courts, IHEs, individuals, and businesses to hire professional consultants to evaluate and advise on matters related to justice system operations and practices. Applications will be considered according to the following selection factors:

-The assistance would address a critical need of the court;
-The soundness of the technical assistance approach to the problem;
-The qualifications of the consultant(s) to be hired, or the specific criteria that would be used to select the consultant(s);
-The court's commitment to act on the consultant's recommendations; and
-The reasonableness of the proposed budget

Technical Assistance Grants may cover the cost of obtaining the services of expert consultants; travel by a team of officials from one court to examine a practice, program, or facility in another jurisdiction that the applicant court is interested in replicating; or both.

Technical Assistance Grants are limited to no more than $50,000 each.

Normally, the technical assistance must be completed within 12 months after the start date of the grant.

SJI is authorized by Congress to award grants, cooperative agreements, and contracts to the following entities and types of organizations:

1) State and local courts and their agencies;

2) National nonprofit organizations controlled by, operating in conjunction with, and serving the judicial branches of state governments;

3) National nonprofit organizations for the education and training of judges and support personnel of the judicial branch of state governments (42 U.S.C. 10705(b)(1)(C)). An applicant is considered a national education and training applicant under section 10705(b)(1)(C) if:

-The principal purpose or activity of the applicant is to provide education and training to state and local judges and court personnel; and

-The applicant demonstrates a record of substantial experience in the field of judicial education and training.

4) Other eligible grant recipients (42 U.S.C. 10705 (b)(2)(A)–(D)). Provided that the objectives of the project can be served better, the Institute is also authorized to make awards to:

-Nonprofit organizations with expertise in judicial administration;
-Institutions of higher education;
-Individuals, partnerships, firms, corporations (for-profit organizations must waive their fees); and
-Private agencies with expertise in judicial administration.

5) SJI may also make awards to state or local agencies and institutions other than courts for services that cannot be adequately provided through nongovernmental arrangements (42 U.S.C. 10705(b)(3)).

A cash and in-kind match must be provided equal to at least 50% of the grant amount, of which 20% of the match must be in cash. For example, an applicant seeking a $50,000 technical assistance grant must provide a $25,000 match of which up to $20,000 may be in-kind and not less than $5,000 must be cash.

Quarterly deadlines are November 1, February 1, May 1, and August 1.

Application Forms: http://www.sji.gov/forms/

Before starting your grant application, please review the funding source's website listed below for updates/changes/addendums/conferences/LOIs.
Jonathan Mattiello, Executive Director
571–313–8843
jonathan.mattiello@sji.gov

State Justice Institute
11951 Freedom Drive, Suite 1020
Reston, VA 20190

P: 571.313.8843
F: 571.313.1173
contact@sji.gov


USA: Alabama Alaska Arizona Arkansas California Colorado Connecticut Delaware Florida Georgia Hawaii Idaho Illinois Indiana Iowa Kansas Kentucky Louisiana Maine Maryland Massachusetts Michigan Minnesota Mississippi Missouri Montana Nebraska Nevada New Hampshire New Jersey New Mexico New York New York City North Carolina North Dakota Ohio Oklahoma Oregon Pennsylvania Rhode Island South Carolina South Dakota Tennessee Texas Utah Vermont Virginia Washington Washington, DC West Virginia Wisconsin Wyoming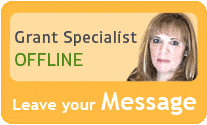 Libby is constantly in touch with grant program managers and reviews numerous publications to make sure that GrantWatch.com provides subscribers with the most up-to-date grant opportunities.
We have grants for:

Need help?
Hi, I would love to guide you through the site.
Please feel free to call or write.
Customer Sales & Support
(561) 249-4129