Oral History Grants
Grants to Utah Nonprofits, IHEs, Agencies and
Groups to Collect and Present Oral History
Agency Type:
Foundation / Corporation

Utah Humanities (UH), Utah Division of State History (UDSH)

12/01/16

Grants of up to $2,000 to Utah nonprofits, government agencies, IHEs, museums, heritage organizations, historical societies, and ad hoc groups to collect and transcribe oral histories within the State. Oral accounts will be made available to the general public at libraries and through a live public program. Grants are intended to fund one-time projects that are innovative, focused, well-defined, and of benefit to the local community.

Oral history projects funded by UDSH and UH must enlist the participation of a scholar trained in the methods and techniques of oral history. Personnel in the Public History section of UDSH may fill this role. Training in oral history techniques and standards for both the project interviewer and transcriber must be secured through UDSH or a comparable institution before funds will be released.

Products of projects supported by Oral History Grant funds must be made available to the public. An easy way to do this is to deposit a copy of the transcribed oral history interview and any other written products from the interview in a local public library. Applicants are required to designate a primary repository open to the public to receive and house materials generated from awarded grants. The Utah State Historical Society Library elects to accept only those materials for which it has been designated as the primary repository, though it reserves the option to be the secondary repository for materials that complement its scope of collection.

Copies of all tapes and transcripts of interviews must also be delivered to UH. The grant file for an oral history project that receives UH/UDSH funds will not be closed, and final payment will not be made, until tapes or CDs and transcripts have received by UH and UH/UDSH staff have reviewed and deposited them in the Utah State Historical Society Library, or until a restricted deposition has been made to UDSH.

Successful applicants must host at least one live public program that showcases the stories collected as part of an Oral History Grant and allows for public discussion about those stories.

Oral History Grants are awarded up to $2,000.

Projects may start on or after February 1. Projects must be completed within a twelve month period. Extensions may be requested in writing.

Oral History Grants are open to organizations, including, but not limited to:
-Historical societies
-Museums
-Tribes
-Government agencies
-Colleges and universities
-Statewide heritage organizations
-Other nonprofit and ad hoc organizations engaged in oral history research

Restrictions:
-Oral History Grants are not made to individuals or for-profit entities.
-Requests to UH/UDSH to fund international travel or the purchase of equipment are very rarely approved.

Oral History Grants are reviewed by UH and UDSH staff on a quarterly basis with the following application deadlines:

-March 1 for projects starting on or after May 1

-June 1 for projects starting on or after August 1

-September 1 for projects starting on or after November 1

-December 1 for projects starting on or after February 1

An Oral History Grant may provide no more than 50% of a project's total cost. Each applicant must be able to show at least one dollar in in-kind contributions or cash to match each Oral History Grant dollar requested.

Applicants are encouraged to cover as many administrative costs (personnel, space, etc.) as possible with matching contributions. Although cash match is encouraged, it is not required. The required match may be entirely in-kind.

Before starting your grant application, please review the funding source's website listed below for updates/changes/addendums/conferences/LOIs.
Jodi Graham, Grants and Outreach Program Officer
Utah Humanities
202 West 300 North
Salt Lake City, UT 84103
801.359.9670 x105
graham@utahhumanities.org

Jedediah Rogers, Senior State Historian
Utah Division of State History
300 S. Rio Grande
Salt Lake City, UT 84101
801.245.7209
jedediahrogers@utah.gov

http://www.utahhumanities.org/images/centerinitiatives/docs/OHGuidelines042016.pdf
http://www.utahhumanities.org/images/centerinitiatives/docs/OralHistoryGrantApplication10.2014.2.doc

USA: Utah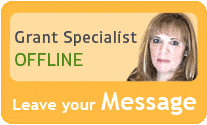 Libby is constantly in touch with grant program managers and reviews numerous publications to make sure that GrantWatch.com provides subscribers with the most up-to-date grant opportunities.
We have grants for:

Need help?
Hi, I would love to guide you through the site.
Please feel free to call or write.
Customer Sales & Support
(561) 249-4129