Economic Infrastructure Program
Grants to North Carolina Local Governments
to Develop Rural Areas and Promote Job Growth

North Carolina Department of Commerce - Rural Economic Development Division

11/01/16 5:00 PM Receipt

10/25/16

Grants to North Carolina local governments to develop infrastructure that will result in job creation in rural areas. A pre-application must be submitted and a consultation held by October 25. Funding will be determined based on the compensation of jobs provided, the company type, and the economic status of the county. Eligible projects include but are not limited to:

-Upgrades or repair of public drinking water or wastewater treatment plants
-Upgrades, extensions, or repair of public water or sewer lines
-Extensions of publicly owned natural gas line (with an executed Pipeline Construction, Operating and -Resale Agreement
-Installation or extension of public broadband infrastructure
-Construction of publicly owned access roads not funded or owned by the NC Department of Transportation
-Construction of public rail spur improvements.

Funding Amounts:

Up to $12,500 per full-time job, maximum award of $500,000
-Project located in a Tier 1 or Tier 2 county
-Company type represented in the Priority Industry Table
-New jobs will meet the county weekly wage standard
-Company will provide 50% employer-paid health insurance

Up to $10,000 per full-time job, maximum award of $500,000
-Project located in a Tier 1 or Tier 2 county
-Any company type is eligible
-New jobs will meet the county weekly wage standard
-Company will provide 50% employer-paid health insurance

Up to $5,000 per full-time job, maximum award of $250,000
-Project located in a Tier 1 or Tier 2 county
-Any company type is eligible
-No wage standard is required
-No employer-paid health insurance is required

Up to $5,000 per full time job, maximum award of $250,000
-Project is located in a Tier 3 county
-Company type represented in the Priority Industry Table
-New jobs will meet the county weekly wage standard
-Company will provide 50% employer-paid health insurance

Grants are up to $250,000 or up to $500,000. Funding is determined by County status, company type, and job compensation.

Applicants must show that the infrastructure improvements will result in the creation of new, full-time jobs in the private sector within 18 months of the grant award.

To meet the terms of the grant the company must maintain the baseline number plus the new, full-time jobs concurrently for at least 6 consecutive months.

Eligible applicants are units of local government with priority given to the counties that have the 80 highest rankings under N.C.G.S.143B-437.08.

The rankings can be found on the NC Department of Commerce website at: http://www.nccommerce.com/research-publications/incentive-reports/county-tier-designations

The program requires a cash match equivalent to at least 5% of the grant amount. The cash match shall come from local resources and may not be derived from other State or federal grant funds. Costs that are not eligible for grant funding may not be counted toward the match.

The first step in the Economic Infrastructure Program (EIP) grant application process is the submittal of the pre-application form and completing the pre-application conference call. The local government applicant is responsible for scheduling the call, arranging a call-in number and/or calling the participants.

Meetings are available upon request and must also be arranged by the applicant.

The pre-application conference call/meeting must be completed at least seven (7) business days prior to the full application deadline date.

Once the call/meeting is complete, applicants may submit a full application.

Upcoming Deadlines:
-November 1, 2016 for award by December 15, 2016
-January 3, 2017 for award by February 16, 2017
-March 20, 2017 for award by April 20, 2017
-May 2, 2017 for award by June 22, 2017

To apply for the November 1, 2016 deadline, submit a Pre-Application by October 25, 2016.

Forms and Sample Applications: https://www.nccommerce.com/ruraldevelopment/rural-grants-programs/forms

Before starting your grant application, please review the funding source's website listed below for updates/changes/addendums/conferences/LOIs.
Program Contact:

Melody Adams
Director, Rural Grant Programs
Rural Economic Development Division
NC Department of Commerce
919-814-4661
melody.adams@nccommerce.com

Please submit a completed Economic Infrastructure Program Pre-Application by mail or email to:

George T. Collier
Economic Infrastructure Program
Rural Economic Development Division
North Carolina Department of Commerce
4346 Mail Service Center
Raleigh, NC 27699-4346
george.collier@nccommerce.com

https://www.nccommerce.com/Portals/2/RuralDevelopment/2015%2016_Final_EIP_Pre_App_01_16.docx
https://www.nccommerce.com/Portals/2/RuralDevelopment/2015%2016_Final_EIP_Full%20App_01_16.docx

USA: North Carolina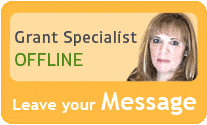 Libby is constantly in touch with grant program managers and reviews numerous publications to make sure that GrantWatch.com provides subscribers with the most up-to-date grant opportunities.
We have grants for:

Need help?
Hi, I would love to guide you through the site.
Please feel free to call or write.
Customer Sales & Support
(561) 249-4129