Community Grants
Grants to South Dakota Nonprofits and Agencies
for Women's Health Screenings and Outreach
Agency Type:
Foundation / Corporation

Susan G. Komen South Dakota

12/09/16 5:00 PM CST

Request a Grant Writer
Grants starting at $10,000 to South Dakota nonprofits and government agencies, in all Counties except Union County, for projects in the areas of breast health and breast cancer education, increasing access to care, and support programs from screening through survivorship.

The funding priority areas are listed below in no particular order.
- Programs that use innovative, evidence-based approaches to break down cultural and/or language barriers and result in documented linkages to breast cancer screening, diagnostic, treatment and/or supportive services.
- Programs that provide evidence-based breast cancer education on the importance of early detection and the availability of financial assistance programs for uninsured women.
- Programs that foster collaboration between health care providers to preserve and strengthen continuity of breast cancer care and lead to an increased provider understanding of breast self-awareness messages supported by Susan G. Komen and knowledge of various referral processes to better navigate their patients though the continuum of care.
- Programs which reduce barriers to women seeking screening. Examples include bringing breast health education and/or free or reduced cost screening and diagnostic services to uninsured and under-insured women and programs which shorten the physical distance between women in remote/rural areas and the screening they need across the state.
- Programs which use innovative or evidence-based approaches to assist or navigate breast cancer patients at any point throughout the continuum of care, from education to screening through survivorship.

Priority will be given to applicants that demonstrate benefit to one or more of the following target communities:
- Oglala Lakota, Jackson, and Bennett Counties
- Lawrence and Pennington Counties
- Beadle County

Allowable Expenses:
-Salaries and fringe benefits for program staff
-Consultant fees
-Clinical services or patient care costs
-Meeting costs
-Supplies
-Reasonable travel costs related to the execution of the program
-Other direct program expenses
-Equipment, essential to the breast health‐related program to be conducted
-Indirect costs, not to exceed 15% percent of direct costs

$10,000 - $100,000

The award period is from April 1, 2017 to March 31, 2018.

Individuals are not eligible to apply. Applications will only be accepted from a non-profit organization with 501(c)3 status (such as an educational institution, hospital or other medical facility, or a community organization) or a local/state government located in or providing services to one or more of the following locations:
- All South Dakota counties (excluding Union County – currently in the Siouxland Affiliate).

Proposed projects must be specific to breast health and/or breast cancer and address the priorities identified in the Affiliate's 2015 Community Profile. If a project includes other health issues along with breast cancer, such as a breast and cervical cancer project, funding may only be requested for the breast cancer portion.

Not Funded:
-Research, defined as any project or program with the primary goal of gathering and analyzing data or information.
-Education regarding breast self-exams/use of breast models
-Development of educational materials or resources
-Construction or renovation of facilities
-Political campaigns or lobbying
-General operating funds (in excess of allowable indirect costs)
-Debt reduction
-Fundraising (e.g. endowments, annual campaigns, capital campaigns, employee matching gifts, events)
-Education via mass media (e.g. television, radio, newspapers, billboards)
-Event sponsorships
-Projects completed before the date of grant approval
-Payments/reimbursement made directly to individuals
-Land acquisition
-Program-related investments/loans
-Scholarships
-Thermography

Applicants will be notified of decisions in March 2017.

Before starting your grant application, please review the funding source's website listed below for updates/changes/addendums/conferences/LOIs.
To apply, go to https://affiliategrants.komen.org/

Meagan Huisman, Affiliate Coordinator
605-271-1751
meagan.huisman@komensouthdakota.org

Susan G. Komen South Dakota
101 N Main Ave., Suite 209
Sioux Falls, SD 57104

Oglala Lakota, Jackson, Bennett, Lawrence, Pennington, and Beadle Counties

USA: South Dakota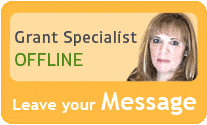 Libby is constantly in touch with grant program managers and reviews numerous publications to make sure that GrantWatch.com provides subscribers with the most up-to-date grant opportunities.
We have grants for:

Need help?
Hi, I would love to guide you through the site.
Please feel free to call or write.
Customer Sales & Support
(561) 249-4129