Kalliopeia Foundation Grant
Grants to USA Nonprofits for Ecology, the Underserved,
and Native American Cultures
Agency Type:
Foundation / Corporation

Kalliopeia Foundation

01/09/17

Request a Grant Writer
Grants ranging from $5,000 to $35,000 to USA nonprofits for programs for Native American cultures, underserved communities, and the environment. This fund is intended for general operating support grants and project support grants. The Foundation does not support capital improvement campaigns, research, or book publishing. The three grant-making areas under this fund are: Spiritual Ecology, Indigenous Cultures, and Soul in Society.

Spiritual Ecology

Spiritual Ecology is an emerging field that calls for responses to environmental issues that include spiritual awareness and/or practice. Spiritual Ecology is rooted in the understanding that resolving such complex issues as depletion of species, climate change, and over-consumption, requires examining and reassessing our underlying attitudes and beliefs about the earth, and our spiritual as well as physical responsibilities toward the planet. The Foundation is interested in projects from a wide range of fields and focus areas, including but not limited to: agriculture, ecology, law, and medicine.

Indigenous Cultures

Kalliopeia will fund organizations led from within Native American communities that protect and strengthen their lifeways and worldviews. Kalliopeia values projects that are safeguarding traditional knowledge, cultivating culturally-grounded leadership, and revitalizing and preserving Indigenous languages.

Soul In Society

Kalliopeia supports organizations across all aspects of society that are restoring respect for human dignity within our systems and institutions. Kalliopeia values projects that offer practical tools for social and personal transformation, especially for underserved communities.

Kalliopeia tends to focus on segments of society that have been marginalized or underserved, and have supported work with prison rehabilitation, veterans, education, at-risk youth, medicine, leadership, and rites-of-passage.

Please note Kalliopeia is not making new grants for work with currently or formerly incarcerated populations within the Soul in Society program area. Kalliopeia continues to provide support to our current grant partners in these fields.

First-year grants range from $5,000 to $35,000.

Kalliopeia supports 501(c)(3) nonprofit organizations in the United States that are working domestically. Organizations with a 501(c)(3) nonprofit fiscal sponsor are also eligible to apply.

Kalliopeia does not support:

- Individuals (even with a fiscal sponsor)
- Private non-operating foundations
- Organizations outside the US
- Large, institutional nonprofits (with the exception of an internal program that may not be otherwise funded, for example within a university)
- Capital improvement projects.

For Indigenous Cultures grants:

The majority of our grant support goes to several Native-led 501(c)(3) nonprofit organizations who distribute funds to a broad range of mostly grassroots projects throughout the United States, including Alaska and Hawaii. Native-led means that Kalliopeia focuses on supporting projects whose leadership and governance are primarily Indigenous. Kalliopeia doesn't make grants directly to federally recognized tribes or IRS section 7871 tribal organizations.

Kalliopeia will fund religious or faith-based organizations if the content of the proposed work furthers the mission and program values and happens to be faith-based, then it would be eligible. General support for a particular religious or spiritual institution or community would not be eligible.

The Foundation accepts grant proposals by invitation only. Applicants must submit a Letter of Inquiry. Selected inquiries will be scheduled for review at one of the three letter of inquiry review meetings held each year. If your work is a good fit for Kalliopeia, they may invite you to submit a full proposal.

See link for more information: http://kalliopeia.org/how-to-apply/#loi

Letter of inquiry submission due dates for 2017:
Submit by January 9, 2017, for the February review meeting.
Submit by June 30, 2017, for the August review meeting.

Link to FAQs: http://kalliopeia.org/faq/

Before starting your grant application, please review the funding source's website listed below for updates/changes/addendums/conferences/LOIs.
Teresa Marmorella, Office Operations and Grants Manager
Email: info@kalliopeia.org

LOIs must be emailed and mailed to the Kalliopeia Foundation:
Email: info@kalliopeia.org
Mailing Address: PO Box 151020, San Rafael, CA 94915

USA: Alabama; Alaska; Arizona; Arkansas; California; Colorado; Connecticut; Delaware; Florida; Georgia; Hawaii; Idaho; Illinois; Indiana; Iowa; Kansas; Kentucky; Louisiana; Maine; Maryland; Massachusetts; Michigan; Minnesota; Mississippi; Missouri; Montana; Nebraska; Nevada; New Hampshire; New Jersey; New Mexico; New York City; New York; North Carolina; North Dakota; Ohio; Oklahoma; Oregon; Pennsylvania; Rhode Island; South Carolina; South Dakota; Tennessee; Texas; Utah; Vermont; Virginia; Washington, DC; Washington; West Virginia; Wisconsin; Wyoming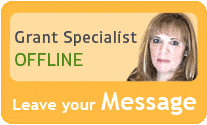 Libby is constantly in touch with grant program managers and reviews numerous publications to make sure that GrantWatch.com provides subscribers with the most up-to-date grant opportunities.
We have grants for:

Need help?
Hi, I would love to guide you through the site.
Please feel free to call or write.
Customer Sales & Support
(561) 249-4129