Building Cultural Diversity
Grants to Ohio Nonprofits and Agencies to
Support Culturally Diverse Arts Programming

Ohio Arts Council

12/01/16

Request a Grant Writer
Grants from $1,000 to $3,000 to Ohio nonprofits and government entities to support new and emerging organizations whose mission, staff, board, and programs represent culturally diverse communities. Funding is intended to support arts projects and programming that celebrate unique arts and culture of various communities, or preserve a culturally significant artistic tradition or practice.

Funds may be used to support general operating and programming costs, with other allowable expenses including arts fees, training or workshop costs, marketing, and planning and evaluation costs. Organizations may receive only one grant per year from this fund.

Applicants may request between $1,000 and $3,000.

Building Cultural Diversity grants are one year to six month awards. This deadline is for projects occurring from January 15, 2017 to June 30, 2017.

- All applicants must possess nonprofit status or nonprofit intent, but need not be registered with the IRA as a 501(c)(3) nonprofit.
- Organizations must be representative of the Americn Indian/Alaskan Native, Appalachian, Asian, Black/African American, Hispanic/Latino, Native hawaiian/Pacific Islander, or other culturally specific populations.
- Applying organizations must be authentically representative of the populations they serve, as evidenced by the following:
1. At least 50% of staff made up of individuals from a culturally specific population
2. At least 50% of board made up of individuals from a culturally specific population
C. Arts and culture programming focused on a culturally specific population
- Applicants may be:
1. Arts and cultural organizations in any arts discipline (literature, performing arts, visual arts, traditional arts, multidisciplinary arts, etc.) or
2. Other organizations providing arts programming (government entities, social service agencies, etc.) that demonstrate a commitment to arts programming in a larger community setting.

New applicants are encouraged to contact the OAC prior to applying.

All awards require a 50% match, up to half of which may come from allowable in-kind donations.

Before starting your grant application, please review the funding source's website listed below for updates/changes/addendums/conferences/LOIs.
To submit applications electronically: https://ohioartscouncil.smartsimple.com/s_Login.jsp

Jim Szekacs
Email: jim.szekacs@oac.ohio.gov
Phone: 614-728-4449

General Contact Information:
Rhodes State Office Tower
30 E. Broad Street, 33rd Floor
Columbus, Ohio 43215-3414
Phone: 614-466-2613
Fax: 614-466-4494

http://www.oac.ohio.gov/Portals/0/grants/2018%20Guidelines/Guidelines_ARTIE_Inds.pdf?ver=2016-11-01-145403-053 http://www.oac.ohio.gov/Portals/0/grants/2018%20Guidelines/Guidelines_ARTIE_Orgs.pdf?ver=2016-11-01-145402-943 http://www.oac.ohio.gov/Portals/0/grants/2018%20Guidelines/Guidelines_IntroOverview.pdf?ver=2016-11-01-145402-883 http://www.oac.ohio.gov/Portals/0/grants/2018%20Guidelines/BuildingCulturalDiversityGuidelines.pdf?ver=2016-11-01-151139-583

USA: Ohio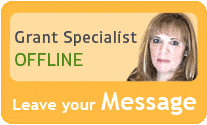 Libby is constantly in touch with grant program managers and reviews numerous publications to make sure that GrantWatch.com provides subscribers with the most up-to-date grant opportunities.
We have grants for:

Need help?
Hi, I would love to guide you through the site.
Please feel free to call or write.
Customer Sales & Support
(561) 249-4129