TechStart Grant
Grants to Maine Businesses, Individuals, and IHEs
for Market Research and Product Development
Agency Type:
Foundation / Corporation

Maine Technology Institute (MTI)

12/06/16 5:00 PM EST

Request a Grant Writer
Grants of up to $5,000 to Maine individual entrepreneurs, as well as universities, businesses, and research institutions to develop a business plan, conduct early-stage market research, and explore intellectual property protection. Applicants are encouraged to submit a draft at least two weeks prior to the application deadline.

Projects funded by the MTI must show a high potential for significant economic benefit to Maine.

Outcome measures will include some of the following benefits:

- Creation or retention of jobs
- Additional company investments
- Increased competitiveness
- Infrastructure investments by the company
- Increased sales and revenue
- Increasing Maine's capacity for R&D
- Patents, trademarks and/or licenses
- Additional outside investment into the company

Maine's Seven Targeted Technology Sectors:

- Advanced Technologies for Forestry and Agriculture
- Composite Materials Technology
- Aquaculture and Marine Technology
- Environmental Technology
- Biotechnology
- Information Technology
- Precision Manufacturing Technology

TechStart Grants will be awarded for up to $5,000 per project.

TechStart Grant projects must not exceed six months in duration.

Maine entrepreneurs and Maine-based companies, nonprofit research institutions, and universities with operations in the state of Maine, requesting funds to develop, transfer, and advance technologies into the commercial market, are all eligible to apply for MTI funding programs:

- Any size Maine-based company may submit an application
- Companies with a significant base of operations and location in Maine are also eligible
- Companies with no current Maine operations must demonstrate a clear plan to locate or base significant operations in Maine and execute on such plans prior to execution of the TechStart Grant Agreement
- Academic and research laboratories (Technology Transfer) – Compelling Technology

Transfer applications will have a realistic expectation that the innovation/technology will be further developed and/or commercialized by partners, or licensees. Technology Transfer TechStart Grants are expected to fund projects where a majority of the project execution rests within Maine-based private and public academic or research institutions.

A Maine-based company is registered to do business in the State of Maine with definitive plans to create and/or retain quality jobs in Maine. Awardees must have a significant base of operations in Maine prior to signing their MTI TechStart Grant Agreement.

TechStart Grants will support:

- Specific activities such as business plan development, intellectual property research and filings, and market research and analysis, or critical industry certification.
- TechStart Grant projects must have clearly defined deliverable outcomes and endpoints for the specifically funded scope of work not to exceed six months in duration.
- Technology research and development activity is not eligible for TechStart funding. Entrepreneurs wishing to request funding for technology development should consider applying for a Seed Grant or Development Loan funding as these applications receive more robust technical reviews by MTI.

Limitations and Restrictions:

- MTI will consider the number of applications, the scope of projects, and the applicant's capacity to simultaneously execute multiple projects as part of the review.
- TechStart Grants may NOT be used as match to other MTI funding programs.
- The total number of TechStart Grants received per organization or principal investigator shall not exceed two grants within a 12-month period.

Each grant requires a 1:1 match consisting of actual cash, salaries, staff time, or equipment directly attributable to the proposed project.

MTI strongly encourages all applicants to submit by email a draft application at least two weeks prior to the targeted application deadline. As time permits, MTI staff offers feedback on draft submissions to assist applicants in developing the strongest proposal possible prior to the targeted application deadline.

Before starting your grant application, please review the funding source's website listed below for updates/changes/addendums/conferences/LOIs.
Submit drafts to kdoughty@mainetechnology.org

Please email questions about the application to Kim Doughty, MTI Lending & Grants Associate, at the above address.

Shane Beckim
Portfolio Manager, Business Ventures
Phone: 207-588-1018
Email: sbeckim@mainetechnology.org

Maine Technology Institute
8 Venture Avenue
Brunswick Landing
Brunswick, ME 04011

USA: Maine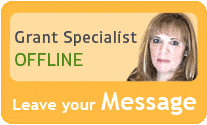 Libby is constantly in touch with grant program managers and reviews numerous publications to make sure that GrantWatch.com provides subscribers with the most up-to-date grant opportunities.
We have grants for:

Need help?
Hi, I would love to guide you through the site.
Please feel free to call or write.
Customer Sales & Support
(561) 249-4129