Fast Track Project Grant
Grants to Florida Nonprofits, Agencies, Schools, and
IHEs for Small-Scale Arts and Cultural Projects

Florida Department of State - Division of Cultural Affairs, Florida Council on Arts and Culture

09/12/17 5:00 PM ET Electronic Receipt and Hard Copy Materials Postmarked by Date
Grants ranging from $1,000 to $2,500 to Florida nonprofits, government agencies, schools, and higher education institutions for arts and cultural projects that fall outside the organization's regular programming. Examples of eligible projects may include artist residencies, exhibitions, and performances. Funds must be used for direct project expenses.

$1,000 - $2,500

The funding period is January 1 through June 30.

Organizations must have a last completed fiscal year's total operating budget of $150,000 or less.

To meet the legal status requirement, an applicant organization must be either a public entity or a Florida nonprofit, tax exempt corporation as of the application deadline.

Public Entity:

-A Florida local government, entity of state government, school district, community college, college, or university. Private schools, private community colleges, private colleges, and private universities are not public entities and must be nonprofit and tax exempt to meet the legal status requirement.

Nonprofit, Tax Exempt:

-A Florida organization that is both Nonprofit: incorporated as an active nonprofit Florida corporation, in accordance with Chapter 617 or Chapter 623, Florida Statutes; and tax exempt: designated as tax exempt as defined in section 501(c)(3) or 501(c)(4) of the Internal Revenue Code of 1954, as amended. Staff will verify status in Guidestar at www.guidestar.org

The Division of Cultural Affairs will verify that the applicant is registered with the Division of Corporations as of the application deadline. If the applicant is not registered in Corporations by the application deadline, the application will be deemed ineligible.

If the applicant is registered in Corporations but their status is not "active," the applicant must correct the status within 10 calendar days of notification or the application will be deemed ineligible.

Not Funded:

-State funds from any source. This includes any income that comes from an appropriation of state funds or grants from the State of Florida;
-Funds used as match for other Department of State grants;
-Expenses incurred or obligated before July 1 or after the grant period;
-Lobbying or attempting to influence federal, state, or local legislation;
-Building, renovation, or remodeling of facilities;
-Capital expenditures (includes acquisitions, building projects, and renovations); Exception: Capital expenditures that are directly related to the proposal, such as exhibit construction or stage lighting, are allowed. Please contact a program manager with questions;
-Costs associated with bad debts, contingencies (money set aside for possible expenses), fines and penalties, interest, taxes (of any kind), and other financial costs including bank fees and charges and credit card fees;
-Private entertainment;
-Food, and beverages;
-Plaques, awards, and scholarships;
-Activities that are restricted to private or exclusive participation, which shall include restricting access to programs on the basis of sex, race, color, national origin, religion, handicap, age, or marital status;
-Re-granting;
-Contributions and donations;
-Mortgage payments; and
-Payments to current Department of State employees.

Program Guidelines:
http://dos.florida-arts.org/grants/guidelines/2016-2017.fasttrack.guidelines.cfm

Grant Administration Handbook:
http://info.florida-arts.org/grants/admin-handbook/2015-2016.grant-administration-handbook.cfm

There are two (2) application deadlines yearly for this program:
-March 14 for the July 1 through December 31 funding period.
-September 12 for the January 1 through June 30 funding period.

Applicants are only required to have 50% match (cash or in-kind). There is no limit on the amount of in-kind that can be included in the proposal budget.

The online portion of the application must be submitted by 5:00 PM ET on the application deadline.

The application package containing additional documentation must be postmarked and mailed to the Division on or before the deadline.

Before starting your grant application, please review the funding source's website listed below for updates/changes/addendums/conferences/LOIs.
Apply Online:
http://apply.florida-arts.org/

Sarah Stage
(850) 245.6459
sarah.stage@dos.myflorida.com

Florida Department of State
R.A. Gray Building
500 South Bronough Street
Tallahassee, Florida 32399-0250

USA: Florida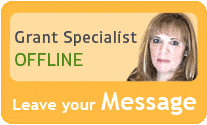 Our team of researchers and grant specialists review hundreds of funding resources daily to make sure GrantWatch.com provides members with the most up-to-date grants.
We have grants for: