Bookstore Promotion of Writers and Comic Book Artists
Grants to Quebec Comic Book Artists and Professional
Writers to Promote Authors' Literary Works at Bookstores

Conseil des arts et des lettres du Québec (CALQ)

10/20/17 Postmarked
Grants to Quebec comic book artists and professional writers to help authors promote their literary works by increasing their visits to accredited bookstores. Additionally, this program will help grow audiences and improve collaborations among bookstores by hosting innovative events.

Evaluation criteria:

- The project's relevance in terms of the program's objectives.
- The project's impact.
- The quality of the partner's participation.

Eligible Projects:

- Eligible activities: meeting, reading, brief conference, round table, interview, chat, residency or other promotional activities taking place in an accredited bookstore.

- Partnership projects are preferred: a mini-tour of several bookstores, travel to a region to carry out other literary or cultural events, projects involving several writers, etc.

Eligible Expenses:

- Applicant's stipend.
- Expenses related to the organization of bookstore events.
- Project realization expenses (specialized equipment rental, purchase of materials required for the project).
- Transportation expenses.
- Living expenses (maximum of $125 per day).
- Expenses for self-promotion by electronic means.
- Fees for participant writers and artists (excluding the applicant).
- Honoraria for collaborators.

The grant recipient has three years from the application registration date to complete the project supported.

Professional writers and comic book artist are eligible.

Artists must have at least two years of professional artistic practice in Québec or elsewhere.

To be eligible, the applicant must:

- Applicants must be invited by a partner (an accredited bookstore) to, in particular, promote their work, participate in cultural or media events or be hosted in a residency. A letter of intent from each host bookstore, describing the nature its participation in the project's realization, must be provided by the applicant.

- The writer must have published at least two books or a minimum of five different texts in a context recognized by his peers and in a literary genre eligible for a grant from the CALQ, i.e. a work of fiction or an essay devoted to the arts and literature. Publications in electronic format that have been subjected to a selection, editing and distribution process recognized by peers are eligible. The peer recognition context excludes the spheres of university research and scholastic publication. Manuscripts published by vanity or subsidy presses or other forms of self-publishing are not recognized.

- The comic book artist must have published one or more albums in a context recognized by his peers or have disseminated works in one or more cultural periodicals. Moreover, he must have two or more years of artistic practice in Québec or elsewhere.

The applicant must be a Canadian citizen or a landed immigrant as contemplated in section 2(1) of the Immigration and Refugee Protection Act. In both instances they must normally reside in Québec and have resided there for at least the preceding 12 months.

Applicants who have resided outside Québec for two or more years are considered ineligible for the CALQ's programs, unless they have maintained their status as a Québec resident.

If an applicant submits a project in a discipline other than the one in which he normally pursues his career, his project must satisfy the eligibility criteria for the new discipline in which he is applying for a grant.

Ineligibility:

- Projects carried out under the supervision of an educational program are ineligible.
- A project that has already been rejected by the CALQ is ineligible for this program.
- A group legally constituted as a not-for-profit or profit-making company or general partnership is ineligible for this program.
- Incomplete applications.

Ineligible Projects:

- A project consisting solely of a book launch or a book signing session.
- Projects which have already been completed before the application deadline.

Only costs incurred from the project start date will be considered admissible.

All applications must be sent to one or the other of the Conseil's offices, in Québec or Montréal, addressed to the designated person. The Conseil deems the postmark to be the date of receipt of applications. Incomplete applications and those submitted after the application deadline are not accepted.

The CALQ will inform the applicant of its decision approximately three months after the application deadline or submission date.

Before starting your grant application, please review the funding source's website listed below for updates/changes/addendums/conferences/LOIs.
Submit applications to:

Mr Guillaume Thériault
Conseil des arts et des lettres du Québec (Conseil)
Direction du soutien aux artistes, aux communautés et à l'action régionale
1435, rue De Bleury, bureau 300
Montréal (Québec) H3A 2H7
Telephone: 514 864-3350
Toll-free: 1 800 608-3350

Canada: Quebec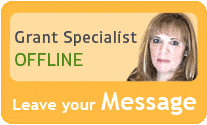 Our team of researchers and grant specialists review hundreds of funding resources daily to make sure GrantWatch.com provides members with the most up-to-date grants.
We have grants for: