Anacostia River Explorers (ARE) Program
Grant to a Washington, DC Nonprofit or Educational Institution
for Environmental Boat Tours of Area Bodies of Water

District of Columbia Department of Energy and Environment (DDOE)

07/13/17

08/07/17 4:30 PM
Grant to a Washington, DC nonprofit, educational institution, or university to engage in educational boat tours in District bodies of water. Funding is intended for environmental projects that strive to lessen the human impact on area bodies of water. The grantee is expected to commit to engaging 4,500 participants per year, weather permitting, across a seven-month season, April through October.

The purpose of this grant is to continue DOEE's successful Anacostia River Explorers (ARE) Program which aims to educate the public about District water bodies by raising awareness of human impacts on waterways and by informing the public on how to minimize negative impact. Specifically, DOEE seeks eligible applications to propose a plan for how they will educate the public on the history of the Anacostia River and the environmental challenges for the river created by human activity.

DOEE seeks proposals from eligible applicants that propose an innovative core educational script for boat tours on the Anacostia River – one that varies for children, youth, and adults – and a plan for conducting the tours. This program is designed to target groups of school children, residents residing within the Anacostia Watershed, and those interested in learning more about this vital natural resource.

Typical allowable costs are:
1. Rental of office space, some vehicles, and some equipment;
2. Employee salaries and benefits;
3. Contractor labor, including professional services;
4. Accounting and bookkeeping services;
5. Communications, including telephone and data services;
6. Printing, reproduction, including signage;
7. Materials and supplies;
8. Computers and printers;
9. Small tools;
10. Some field equipment, typically below $5,000 in value;
11. Postage and shipping;
12. Necessary travel, meals and lodging; and
13. Insurance.

$300,000

1

$300,000

The project period will extend from the date of Award until September 30, 2019. The grant may be extended for up to two (2) years.

-Nonprofit organizations, including those with IRS 501(c)(3) or 501(c)(4) determinations;
-Universities/educational institutions

Non-Allowable costs include:
1. Most major equipment, like vehicles;
2. Lobbying, including salaries and overheads and out-of-pocket expenses;
3. Entertainment;
4. Interest payments on loans;
5. Most food; and
6. Land purchases.

An informational meeting/conference call and opportunity for question and answers will be held on July 13, 2017 at 1:00 PM.

The location of the meeting will be:
1200 First Street NE
Washington, DC 20002
Fifth Floor

For those who cannot attend in person, the conference call number is (866) 830-5784 and conference code is 6971510.

DOEE welcomes questions seeking clarification of matters in this RFA. Questions about the RFA should be sent to the email address provided below with "RE: RFA 2017-1720-WPD" in the subject line. The cut-off date for receipt of any questions is one week prior to the application deadline.

Grant forms must be mailed and emailed to the DDOE.

DOEE expects to notify each Applicant in writing of its award status within six to twelve weeks after the application due date.

Projects that would be carried out on National Park Service (NPS) property will require NPS permission. Sometimes the paperwork supporting such permission takes extra time to complete.

Grant funds related to work performed will be provided on a reimbursement basis, except that an advance of funds may be provided for grant administration expenses in limited circumstances for good cause approved by DOEE at its sole discretion.

Before starting your grant application, please review the funding source's website listed below for updates/changes/addendums/conferences/LOIs.
The paper copies must be filed with DOEE at the following address:

District of Columbia Department of Energy and Environment
RFA – Grants
1200 First Street NE
5th Floor
Washington, DC 20002
Attn: RFA 2017-1720-WPD

Email: ARE2017.RFA@dc.gov
Phone: (202) 535-2600

All inquries should be directed Aaron Waters using the email address provided above or by calling (202) 535-2239, or writing to the DOEE with Attention: Aaron Waters RE: RFA 2017-1720-WPD on the envelope.

2017-1720-WPD

USA: Washington, DC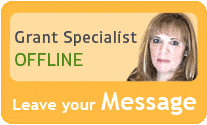 Our team of researchers and grant specialists review hundreds of funding resources daily to make sure GrantWatch.com provides members with the most up-to-date grants.
We have grants for: