We Have Skills (WHS) Evaluation
Opportunity for USA Schools to Enroll 1st Grade
Teachers in a Social Skills Curriculum Training Course
Agency Type:
Foundation / Corporation

Oregon Research Institute (ORI) and IRIS Educational Media (IRIS)

09/15/17 5:00 PM PT Final Closing Date; Apply by 08/31/2017 5:00 PM PT for priority consideration
Opportunity for USA elementary schools and school districts to enroll 1st grade teachers in an online course that will enable them to teach a social skills curriculum. Participating districts will receive the curriculum program, staff training, and additional support for each participating teacher.

The Oregon Research Institute (ORI) and IRIS Educational Media (IRIS) are initiating this opportunity announcement seeking school district partners for a project funded by the Institute of Education Sciences, Department of Education to evaluate We Have Skills, an 8-week universal tier social emotional learning curriculum.

If your school district is selected as a partner you will receive a portion of the $200k in available funds and resources. Materials and funds will be distributed to partnering districts and participating teachers.

Background:

The goal of this partnership is to further evaluate the efficacy of the We Have Skills curriculum, a program designed to teach social skills competence in grades K-3. ORI expects to show We Have Skills improves the social skills, behaviors, and academic achievement of 1st graders while reducing teacher stress and improving the classroom experience for both students and teachers. This research study is funded by the Institute of Education Sciences, U.S. Department of Education. We Have Skills comprises three separate functional components: (a) student instructional materials, (b) tools for assessing student social behavior in response to instruction, and (c) professional development materials covering delivery of the instruction.

We Have Skills is an 8-week evidence based social skills curriculum targeting a set of teacher-preferred skills shown to improve student achievement and enhance the classroom learning environment. Students learn and practice seven skills that help them make friends, enjoy school and experience academic success. We Have Skills is a multimedia program delivering classroom behavior lessons directly to students through video instruction and a wealth of resources, including modeling vignettes, animal characters, animations, songs, in-classroom exercises and take-home materials designed to increase family engagement. We Have Skills has considerable appeal to early elementary school children while being firmly grounded in research.

Participation Benefits:

Teachers will receive all We Have Skills program materials including the DVD, CD, detailed lesson plans, and teacher's manual. Teachers will also receive training in the We Have Skills program, as well as support as needed, both with program-implementation and, if desired, as follow-up coaching sessions based on teachers' perception of classroom needs, skills acquisition, and behavioral concerns. The We Have Skills program and materials will belong to the teacher following participation in the study. All participating teachers, regardless of randomization results, will receive remuneration at time points coinciding with the fall and spring teacher surveys and classroom observations ($500 total). Teachers participating in the We Have Skills research study may report improved self-efficacy and lower stress.

Students who become fluent in the WHS curriculum skills do better in school academically, with peer relationships and with teacher/student relationships. Developing social and emotional skills at an early age influence mental health and well-being now and through life. Social skills play a role in determining how well children meet the demands of classroom life and school days in general.

The quality of teachers-student interactions and the instructional practices in the classroom are two significant predictors of social success and student academic performance. The We Have Skills curriculum is designed as a universal or Tier 1 prevention strategy, explicitly teaching the seven social skills to all students. In a recent pilot study, teachers who implemented We Have Skills rated the behavior of students exposed to the We Have Skills materials as 'significantly better (p < .01) compared to teacher who did not implement the program. Overall, schools/districts benefit when students experience a learning environment that builds attachment to school, motivation to learn and academic achievement.

Teacher Participation Requirements:

Participation is open to 1st grade teachers in each partnering district who are not currently using the We Have Skills curriculum. Each teacher is randomized to one of two conditions (immediate or wait-listed), and completes surveys and two classroom observations during the school year. The "immediate" group must participate in a brief training in the fall of 2017. They will be required to use the curriculum in their classrooms and complete brief teacher checklists for 8 weeks. The "wait-listed" group will participate in a brief training in spring 2018 after completing a survey and classroom observations.

Impact of Participation:

The impact of We Have Skills on teacher preparation time and instructional time is minimal. Highly efficient classroom materials provide explicit instruction and visual models of each skill, minimizing teachers' time for preparation and delivery. Behavioral improvements associated with We Have Skills may reduce the amount of time teachers spend on disciplinary issues which can increase time for academic instruction.

Participating teachers will need 30 minutes a week to teach the 8-week curriculum. They will fill out two surveys during the school year. ORI and IRIS project staff will conduct two brief classroom observations. All teachers can keep the curriculum materials for future use.

$200,000

Funds will be distributed to each district based on the number of participating teachers. Each partner district will receive a $400 social skills curriculum, staff training, and support for each participating 1st grade teacher.

Additionally, all 1st grade teachers participating in evaluation activities will receive $250 at two times during the year, coinciding with participation in two online surveys and two classroom observations.

The required teacher training is between 90 -120 minutes in length and conducted online in small groups. IRIS and ORI Project staff will provide a number of dates and times for teachers to attend a training that is convenient to their schedule.

Initial participation can start between August 2017 and January 2018.

Participating teachers will need 30 minutes a week to teach the 8-week curriculum.

This opportunity is open to schools with 1st grade teachers who aren't currently using the We Have Skills curriculum in their classrooms.

For your school or district to be considered for this project you must commit to the following:

-A minimum of five (5) 1st grade teachers committing to participation before September 30, 2017.

OR

-A minimum of five (5) elementary school principals committing their schools to participation and active teacher recruitment before August 31, 2017.

AND

-Completion of the partnership application (Online Form) before the priority closing date of August 31, 2017.

-Agree to implementation and evaluation activities in your district based on the evaluation design proposed by the project team to the US Department of Education.

To apply, complete the partnership application before one of the two closing dates. The application is not difficult to complete and requests details about your districts capacity to partner. There are two closing dates:

-August 31, 2017, 5:00 PM Pacific Time (priority)
-September 15, 2017, 5:00 PM Pacific Time

Preference will be made to all district partnership applications submitted before the August 31 priority deadline. After submitting the application, a representative from the research study will contact you within one week to discuss your application's status.

Before starting your grant application, please review the funding source's website listed below for updates/changes/addendums/conferences/LOIs.
Carey Black, Project Coordinator
(877) 343‐4747 x 208 (toll-free)
cblack@irised.com

IRIS Educational Media
258 East 10th
Eugene, OR 97401

USA: Alabama; Alaska; Arizona; Arkansas; California; Colorado; Connecticut; Delaware; Florida; Georgia; Hawaii; Idaho; Illinois; Indiana; Iowa; Kansas; Kentucky; Louisiana; Maine; Maryland; Massachusetts; Michigan; Minnesota; Mississippi; Missouri; Montana; Nebraska; Nevada; New Hampshire; New Jersey; New Mexico; New York City; New York; North Carolina; North Dakota; Ohio; Oklahoma; Oregon; Pennsylvania; Rhode Island; South Carolina; South Dakota; Tennessee; Texas; Utah; Vermont; Virginia; Washington, DC; Washington; West Virginia; Wisconsin; Wyoming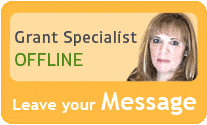 Our team of researchers and grant specialists review hundreds of funding resources daily to make sure GrantWatch.com provides members with the most up-to-date grants.
We have grants for: